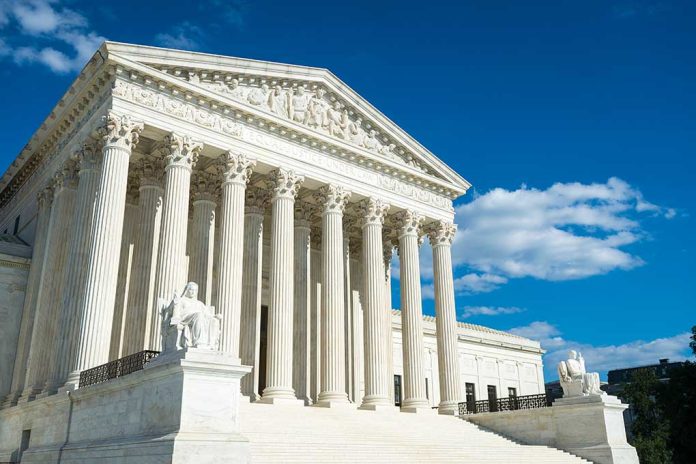 (LibertySons.org) – Amy Coney Barrett's ascension to the Supreme Court in October 2020 gave conservative justices a solid majority of six to three over their liberal counterparts. Since her commission, the court has upheld voter restrictions in Arizona, struck down a gun control measure in New York, and overturned Roe v. Wade nationwide. Despite that track record, the nation's highest court recently shut down an important conservative case.
On January 23, the Supreme Court denied a petition for a writ of certiorari in a case challenging the certification of the recent midterm election results in Delaware County, Pennsylvania. The petitioners filed the lawsuit, styled as Gregory Stenstrom, et al., Petitioners v. Delaware County Board of Elections, in late November 2022.
Supreme Court Denies Critical Conservative Case https://t.co/rlXJvk1aEG

— Conservative Brief (@ConservBrief) January 31, 2023
The case began when failed Republican candidate Dasha Pruett refused to concede when she lost her bid to unseat incumbent US Representative Mary Gay Scanlon (D-PA). In late December 2020, she filed an emergency petition in the Delaware County Court along with two election observers. They claimed that election officials only gave them limited access to ballot-counting operations. They asked the court to fine county election board members $1,000 and sentence them to one year in prison.
Common Pleas Court Judge John Capuzzi issued a ruling in January 2021 dismissing the case with prejudice, barring the petitions from refiling their petition. The Pennsylvania Commonwealth Court affirmed Capuzzi's ruling in December 2021, and the state's Supreme denied a petition to hear the case in June 2022. As noted above, they petitioned SCOTUS in late 2022. The rest is history.
This case isn't the first time that SCOTUS denied a petition by conservatives this month. On January 9, the court refused to grant a writ of certiorari in Texas, et al., Petitioners v. Cook County, Illinois, et al. Fourteen Republican state attorney's general petitioned the court to reinstate a 2019 rule (84 FR 41292) implemented by the Department of Homeland Security mandating a wealth test for immigrants.
The policy, called the Inadmissibility on Public Charge Grounds, required prospective permanent residents to provide documentation proving they were "self-sufficient" and won't become a burden on US taxpayers if granted entry into the country.
~Here's to Our Liberty!
Copyright 2023, LibertySons.org