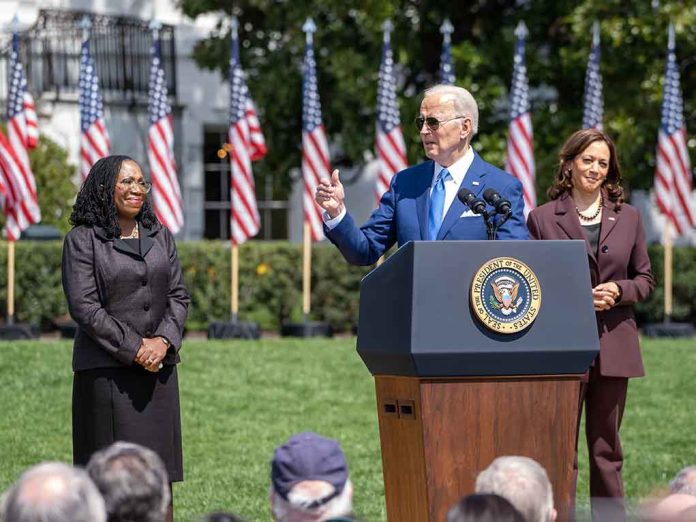 Supreme Court Supreme Court Holds Event for Judge Ketanji Brown Jackson
(LibertySons.org) – New US Supreme Court Justice Ketanji Brown Jackson already officially took the oath of office on June 30. Now, she has had her formal investiture ceremony. The event took place on September 30, just as SCOTUS had announced on September 19.
Supreme Court to hold formal investiture ceremony for Justice Ketanji Brown Jackson Friday with Biden, Harrishttps://t.co/6dLm3RLmn3

— Jerry Hale (@JerryHa13390894) September 29, 2022
The investiture ritual, which began in 1970, took place in the courtroom at the Supreme Court. The symbolic tradition served as a formal welcoming party for the new judge. The ceremony centered around a decades-old tradition involving language used to bring in the first SCOTUS member appointed by former President George Washington and Chief Justice John Marshall's chair. No cameras were allowed. After the ceremony, Jackson took the traditional walk down the marble steps of the Supreme Court with Chief Justice John Roberts.
The event was private, and an individual could only come if they received an invitation. Four known guests were President Joe Biden, Vice President Kamala Harris, and their spouses.
The last time the ceremony happened was for Justice Amy Coney Barrett, but there was a long delay due to the pandemic and she had already served on the court for a year before it occurred. Her guests were also mainly personal friends and family due to public health protocols.
Jackson will begin hearing her first cases with the court when the next term starts on October 3.
~Here's to Our Liberty!
Copyright 2022, LibertySons.org