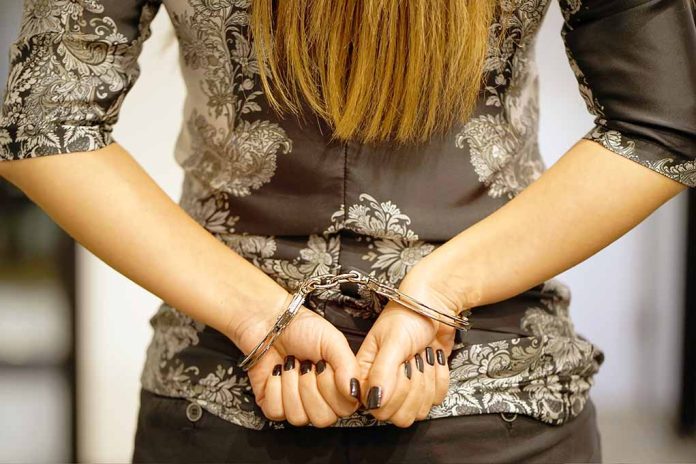 (LibertySons.org) – In 2014, Heather Mack helped murder her mother, Chicago socialite Sheila von Wiese-Mack; her boyfriend, Tommy Schaefer, was convicted of murder in the wicked crime. The young couple then placed her body in a suitcase at a resort in Bali. Heather hoped the plot would grant her early access to her trust fund; instead, she found herself imprisoned in an Indonesian jail. Now, US authorities arrest her on associated charges in the death of her mother.
Indonesia officially deported Mack back to the US on October 29 after serving seven years of an 18-year sentence for the murder of her mother. The FBI promptly arrested her at O'Hare International Airport in Chicago on November 3.
Mack faces charges of obstruction of justice and conspiracy to commit murder. If the courts opt to hand down the maximum penalty for her crimes, she could get a life sentence. Her partner, Tommy Schaefer, continues to serve time in Indonesia for his part in the crime.
FBI arrests 'suitcase killer' Heather Mack at Chicago airport after return from Balihttps://t.co/HoJEU97ITN

— Fox News (@FoxNews) November 3, 2021
When Mack returned to the country, she was supposed to have her daughter Stella with her. Child Protective Services cooperated with the FBI during the arrest.
On November 2, attorney Brian Claypool secured an emergency custody hearing on Heather's behalf. He asked the court to allow Stella to stay with Oshar Putu Melody Suartama, who had previously taken care of the child during Mack's years in an Indonesian jail. Schaefer's mother, Kia Walker, also sought custody.
A Cook County judge ruled to allow Stella to go to an unnamed individual chosen by Mack's legal team instead of going into the foster system. It is unclear if the child returned to the US with her mother.
Heather Mack has pleaded not guilty.
~ Here's to Our Liberty!
Copyright 2021, LibertySons.org