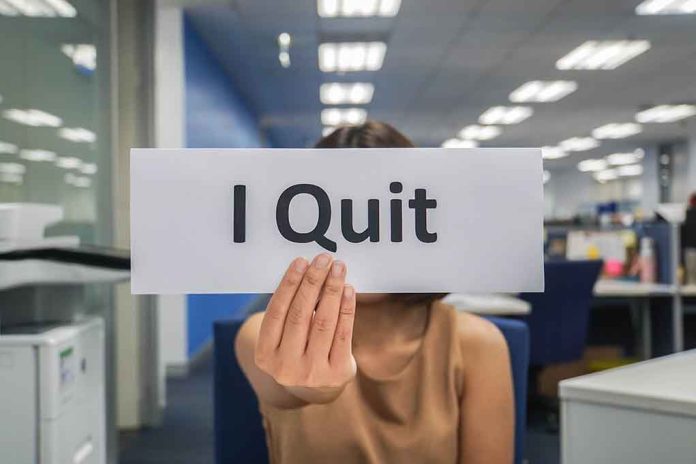 (LibertySons.org) – Most observers would categorize Elon Musk's $44 billion acquisition and transition of Twitter as anything but smooth. From the initial legal haggling over price and terms to the massive layoffs after the sale's completion and continuing through the exodus of advertisers, the platform's value dropped to around $15 billion as of the end of May. So perhaps it's no surprise that another high-level Twitter employee announced her resignation on Thursday, June 1. Yet, the circumstances surrounding the departure have tongues wagging.
Ella Irwin, Twitter's now-former head of trust and safety, confirmed her resignation to Reuters after tech reporter Kylie Robison of Fortune tweeted that the social media company had deactivated Irwin's Slack account, a messaging platform some corporations use as a virtual workspace. Irwin is the second person in the position to leave since Musk took assumed control of the company in October 2022. She took over from Yoel Roth in early November after Musk announced a scheme allowing users to buy a blue verification checkmark for a monthly fee.
Seeking an email comment from Twitter, Reuters noted reporters received an automated reply consisting of a poop emoji. Irwin declined to comment on her reasons for leaving the Big Tech company.
However, TechCrunch reported Irwin's departure aligned with the Daily WIre's claims that Twitter seemingly canceled a deal that CEO Jeremy Boreing claimed the two companies negotiated to live-stream the conservative media company's controversial documentary "What is a Woman?" Someone at Twitter apparently rejected the deal after reviewing the feature-length film, labeling it "hateful conduct" due to "misgendering," according to Boreing, who spoke with the Daily Beast.
Boreing also tweeted about the issue in a 16-post scrolled thread in real-time. Musk replied to Boreing, telling him the situation was "a mistake" made "by many people at Twitter." A couple of hours later, Musk told Boreing the problem was "being fixed."
At the time of this report, Musk had not replied to media requests for his comments on the situation.
~Here's to Our Liberty!
Copyright 2023, LibertySons.org