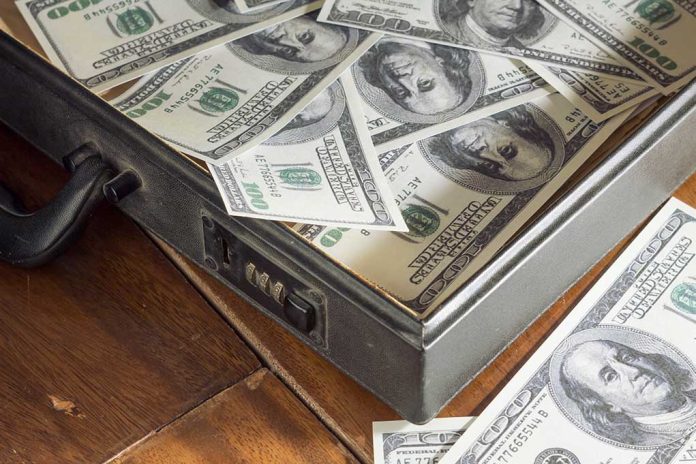 (LibertySons.org) – Democrats have made it clear that they don't want former President Donald Trump to ever hold office again. As the Trump train builds momentum, Manhattan District Attorney Alvin Bragg's recent indictment of the former president could do one of two things. First, it could cause Trump's supporters to seek an alternative candidate, or it could fire his base up and only add to his campaign's momentum. Meanwhile, adult film actress Stormy Daniels is raking in the dough and thanking her followers for all of their support.
Indicting Trump
The exact reason why Bragg indicted the former president remains unclear. However, court watchers and Trump's legal team appear to believe it has something to do with a $130,000 payment Trump allegedly made to Daniels prior to the 2016 election. A former attorney for the then-real estate mogul supposedly paid the adult film actress the money on behalf of the then-presidential candidate to keep her quiet about an affair the two allegedly had.
Trump allegedly wrote off the $130,000 payment as a business expense. It's against the law in the state of New York to falsify business documentation. Trump has denied any wrongdoing and declared the Manhattan DA's decision to indict him is part of a political witch hunt. The former president is set to get his mugshot and fingerprints taken.
Making Money
Daniels, who's also known by her legal name, Stephanie Clifford, recently took to Twitter to celebrate. However, she wasn't celebrating Bragg's indictment of Trump. Instead, Daniels lauded the fact she has orders for "merch/autograph requests," which were "pouring in," claiming she has "so many messages" that she can't respond to all of them.
Presumably, Daniels is seeing a boost in sales due to the recent rise in attention due to her proximity to Trump's alleged crimes. She thanked her supporters for backing her and for all the orders before asking them to be patient as it was going to take a few more days for her to ship the products.
Thank you to everyone for your support and love! I have so many messages coming in that I can't respond…also don't want to spill my champagne 😜 #Teamstormy merch/autograph orders are pouring in, too! Thank you for that as well but allow a few extra days for shipment.

— Stormy Daniels (@StormyDaniels) March 30, 2023
While Clifford celebrated on Twitter, Republicans took to the platform to criticize the Manhattan DA's decision to indict Trump. Even some of Trump's top contenders, such as Florida Governor Ron DeSantis, have declared their support for the former president. Meanwhile, leading congressional Republicans have called Bragg's indictment a weaponization of America's judicial system.
While everyone has a right to a fair trial, Trump feels his will be anything but impartial. Only time will tell.
~Here's to Our Liberty!
Copyright 2023, LibertySons.org