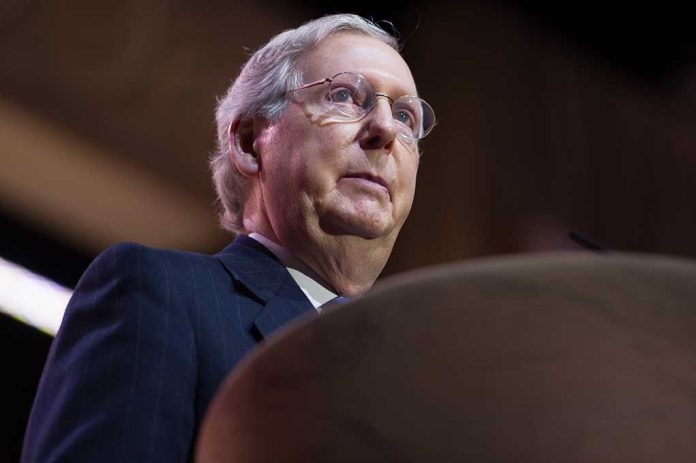 (LibertySons.org) – Senate Minority Leader Mitch McConnell (R-KY) recently praised the 13 GOP senators who voted in favor of the $1.2 trillion infrastructure bill, passing it into law. White House Chief Strategist Steve Bannon responded to the commendation with intense anger on a November 8 segment of The War Room.
Bannon not only called McConnell a traitor to GOP voters but also said senators who supported the bill are as guilty as Democrats for ruining the country's financial future.
Steve Bannon ON FIRE: "People Are Going to Throw Up in their Mouth When They Hear the Name Mitch McConnell" (VIDEO) https://t.co/XuqopJsycU

— The Edge (@TheEdgePB) November 8, 2021
The political strategist, who is sure the McConnell name will leave a bad taste in everyone's mouth, explained that without Republican support, the contentious infrastructure bill was all but dead. He feels Speaker of the House Nancy Pelosi couldn't possibly pass it with so much infighting within the Democratic Party. If GOP members stayed true to their own lines, they would have defeated the bill, ushering in a massive loss for the Biden Administration.
Bannon believes Republicans ultimately caved, handing Pelosi and Biden a significant win. McConnell, who he referred to as "radioactive," then essentially clapped them on the back for their questionable contributions.
In Bannon's eyes, McConnell cleared them of the debt ceiling, kept an illegitimate regime on life support, and dealt the GOP a major blow instead.
The Chief Strategist also said Republicans in Congress have to stop giving in to the Left, as it is disloyal to voters and makes the whole party look weak. He feels the move may jeopardize campaigns in 2022 because people want to see cohesion among GOP members. They need proof the party will work together on a plan free of the Left's big spending.
Is Steve Bannon off the mark here? Or has he simply anticipated the aftereffects of McConnell's comments on Right-leaning voters?
~Here's to Our Liberty!
Copyright 2021, LibertySons.org