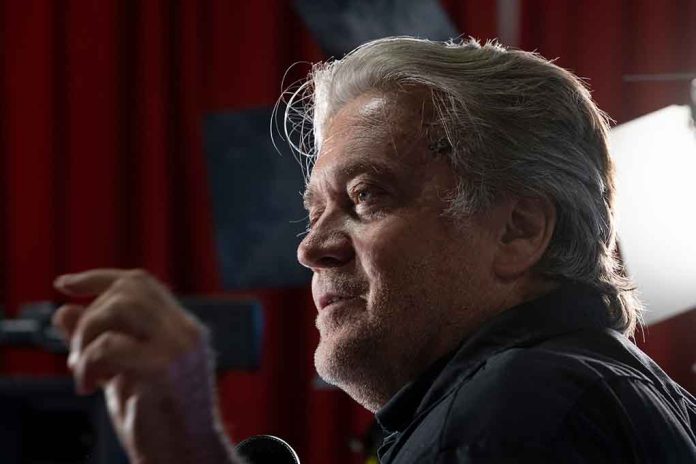 (LibertySons.org) – Stephen Bannon, who served as an advisor to former President Donald Trump, turned himself in to authorities on September 8 in New York. His arraignment was the same day. The action was in response to an indictment filed in Manhattan regarding his involvement with the We Build the Wall charity. Authorities are accusing Bannon of money laundering, engaging in conspiracy, and scheming to defraud.
BREAKING: Steve Bannon and 'We Build the Wall' Both Charged with Money Laundering, Conspiracy and Scheming to Defraud Trump Supportershttps://t.co/QzrPLYDSOs

— Law & Crime (@lawcrimenews) September 8, 2022
The We Build the Wall fundraising campaign brought in over $25 million from donors, with the goal of building Trump's southern border wall. Bannon and others within the organization promised all of the proceeds would go toward the cause.
Prosecutors allege Bannon and his associates took money from the funds collected for their own personal use. They claim the group purposely concealed these payouts through devious means to defraud donors.
Before leaving office in 2021, the former US leader pardoned Bannon for the same crimes on a federal level. Unfortunately for the former advisor, the measure doesn't protect him from state prosecution.
District attorney Alvin L. Bragg said the guilty parties will be held accountable. Attorney Letitia James believes Bannon lied to people and exploited their political views for his own benefit.
Bannon denied the allegations, calling the indictment a political move. If convicted, he could face a maximum sentence of 5 to 15 years in prison.
~Here's to Our Liberty!
Copyright 2022, LibertySons.org