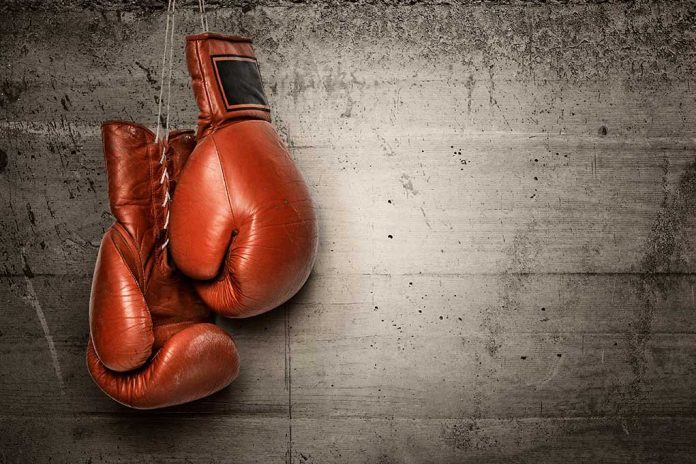 (LibertySons.org) – Back in January, a war of words erupted between two conservative commentators, Candace Owens and Steven Crowder. The two have traded blows several times in recent months and threatened each other with legal action.
The feud between Crowder and Owens began when the former turned down a $50 million deal with The Daily Wire, where Owens currently works. Crowder, the host of the popular podcast show "Louder with Crowder," claimed the outlet was engaging in heavy censorship.
A disappointed Owens went on her program, "The Candace Owens Show," to defend The Daily Wire and explained that Crowder had "a lot going on." Continuing, she encouraged her viewers to pray for him.
Crowder shot back by playing a clip of Owens saying she was dealing with a lot right now and suggested she made his divorce become public knowledge. An upset Crowder then accused Owens of extortion, claiming he would take action through the "proper legal avenues."
War Between Candace Owens and Steven Crowder Escalates With Accusations of Extortion and Defamationhttps://t.co/KtjM9K4onY

— Mediaite (@Mediaite) April 25, 2023
Owens responded to Crowder's accusations, warning that they won't be taken lightly. The Daily Wire host noted that what Crowder was saying was "very serious," explaining she contacted a defamation attorney to send a cease and desist letter to Crowder demanding an apology.
Owens spoke with The Daily Beast, further denying the allegations against her, and advised that she sent Crowder a cease and desist. Additionally, she mentioned that she recently received a response from Crowder's lawyer claiming there were no grounds for her to file a defamation suit.
Owens recently took to social media to defend herself, claiming Crowder's accusations are crazy and should indicate how unraveled he's become. The Daily Wire host claimed that Crowder was "on a [downward] spiral," adding that his behavior was unstable. In addition, Owens accused Crowder of being too afraid to call out the person who really brought his divorce into the public eye, Owen Benjamin, a controversial comedian, so he targeted her instead.
~Here's to Our Liberty!
Copyright 2023, LibertySons.org