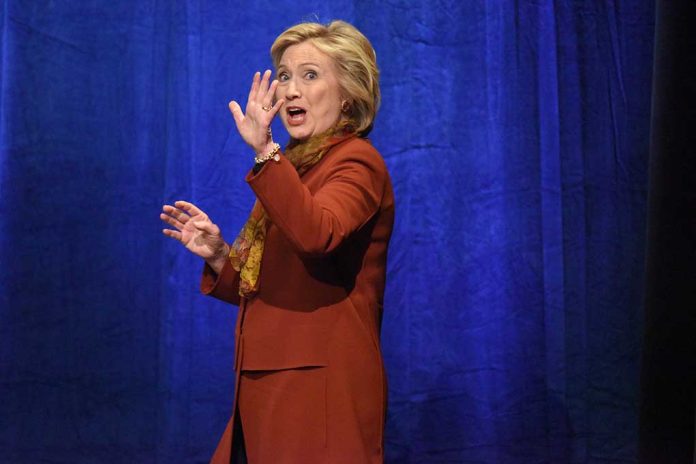 (LibertySons.org) – Former First Lady Hillary Clinton and her daughter, Chelsea Clinton, recently attended a theater production in New York. During the show, a so-called "serial pooper" allegedly defecated in the aisle next to the two women. Neither of the two Clintons has confirmed whether or not they were aware of what happened.
According to Page Six, which first reported on the incident, the failed presidential candidate and her daughter were at the Shubert Theater to watch a rendition of "Some Like It Hot," which has been attracting big names like Bo Derek, Steven Spielberg, Eddie Izzard, Martin Short, Hank Azaria, Debbie Allen, and more.
One source with insider information told the outlet it was a "one-off incident." Meanwhile, another source claimed staff working for the theater says they've had previous close calls before.
Alleged Serial Pooper Defecates in Aisle Near Chelsea and Hillary Clinton at New York Theater https://t.co/hlpwC0JrsD via @BreitbartNews

— angrybird (@alpine106) March 21, 2023
An additional source told Page Six that the lights came on for intermission shortly after the conclusion of the first act and revealed "two human turds in the aisle" near the Clintons. The person mentioned the theater's staff quickly responded, adding that both women stayed for the second act.
According to Page Six, the first source offered additional background surrounding the incident, telling the news agency that an "elderly person" committed the foul act, calling it sad. The insider also mentioned that "house staff worked quickly," allowing for the second act to proceed as scheduled.
Page Six reported that one of the insiders spoke with the theater's manager, who confirmed that similar incidents have occurred on at least three occasions. The insider surmised there were one of two things happening — someone was defecating in the aisle or was smuggling feces into the theater and dumping it in the aisle, no pun intended. Another source said the incident was nothing more than an unfortunate accident.
~Here's to Our Liberty!
Copyright 2023, LibertySons.org