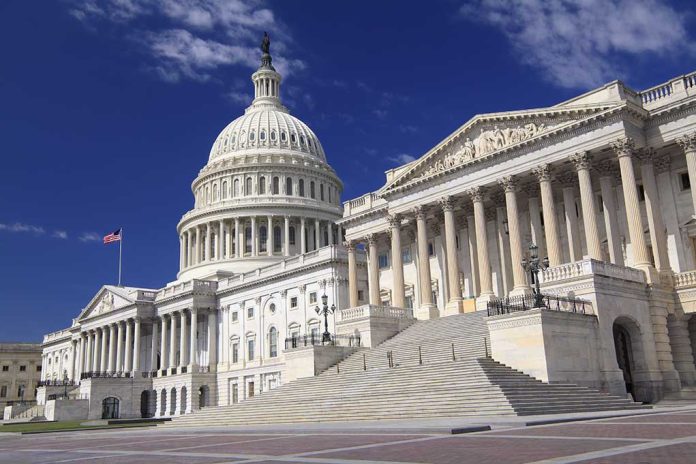 Senate DEAL Reached – It Could Impact Millions Of Americans…
(LibertySons.org) – A new gun control bill is making its way through the Senate. Both Senate Majority Leader Chuck Schumer (D-NY) and Senate Minority Leader Mitch McConnell (R-KY) have put their support behind the Bipartisan Safer Communities Act. The measure is a piece of legislation drafted by both parties. Although it doesn't go as far as President Joe Biden and the Democrats might like, it is the first significant gun control legislation enacted by Congress in many years.
Origins and Contents
The bill comes from the work of 10 members of each party who began focusing on creating some type of gun reform after the recent grocery store mass shooting in New York and the school massacre in Texas.
The legislation will expand background checks for firearm buyers under the age of 21 and incentivize states to open juvenile records during the process. It also seeks to eliminate people's ability to buy a weapon for someone else to circumvent the law.. In addition, the proposed law would increase penalties for illegal purchases of firearms to 15 or 25 years, strengthening the fight against gun trafficking.
The bill will close an existing loophole and help to prevent people with domestic violence convictions from buying guns. The legislation also provides funding to assist states in developing mental health services and intervention programs in communities and schools.
The act allows individuals with gun restrictions to restore their rights after maintaining a clean record for five years. Plus, the legislation gives states a monetary incentive to start using mental health flags on individuals found to be dangerous to themselves or others.
Supporters say the bill is full of common-sense regulations that will make communities safer. Senator Pat Toomey (R-PA) feels the proposal protects Second Amendment rights while also providing a way for safer gun ownership.
The Road Ahead
The expectation is the legislation will receive more than the 60 votes needed to pass it in the Senate due to some GOP support. It should have no issues in the House, which is prepared to take a quick vote on it once the bill moves from the Senate.
Despite the measure not including an assault rifle ban, nor universal background checks the president proposed, Biden supports the legislation.
However, it does have some opponents. The National Rifle Association announced it is against the measure because the act places burdens on the Second Amendment rights of citizens and fails to address the root issues that lead to gun violence. The organization thinks the legislation will "restrict lawful gun purchases."
~Here's to Our Liberty!
Copyright 2022, LibertySons.org