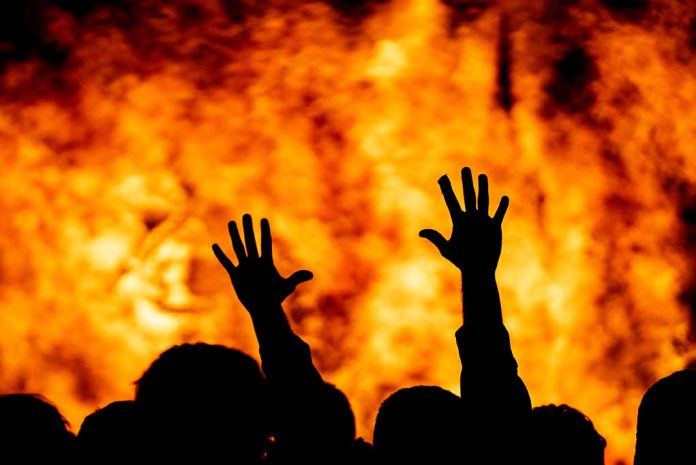 (LibertySons.org) – Insurrection has become a buzzword for the Left since the January 6 incident at the nation's Capitol Complex. Now, Liberals seem to use the word for every incident where people do not fall in line with their agenda.
On July 27, 2021, things got a bit out of hand at a Broward County, Florida, school board meeting to discuss mask mandates for children for the upcoming fall session. A group of unmasked protesters associated with the Face Freedom movement tried to join the meeting to have their voices heard. Chairwoman Rosalind Osgood shut down the discussion and ended the meeting.
Osgood told reporters the following day the incident amounted to something akin to an "insurrection."
Florida Gov. Ron DeSantis (R) has been clear about his opposition to forcing people to wear facial coverings. Concerned parents and others like Republican state Representative Anthony Sabatini have called on DeSantis to ban mask-wearing mandates statewide in schools.
Forcing kids to wear masks is bad policy. Parents are best equipped to decide whether they want their kids to wear a mask in school. Neither bureaucrats in Washington nor local authorities should be able to override the decision of the parents. pic.twitter.com/1TyFByAaWf

— Ron DeSantis (@GovRonDeSantis) July 28, 2021
The board reconvened on the morning of July 28. They also put an order in place to segregate those not wearing masks to an area outside during the meeting and unanimously voted to approve the mandate.
This whole situation brings up the question of who should make decisions for children. Shouldn't parents have the right to do it for their own kids? Are the government and school boards overstepping by issuing these mandatory requirements?
~Here's to Our Liberty!
Copyright 2021, LibertySons.org