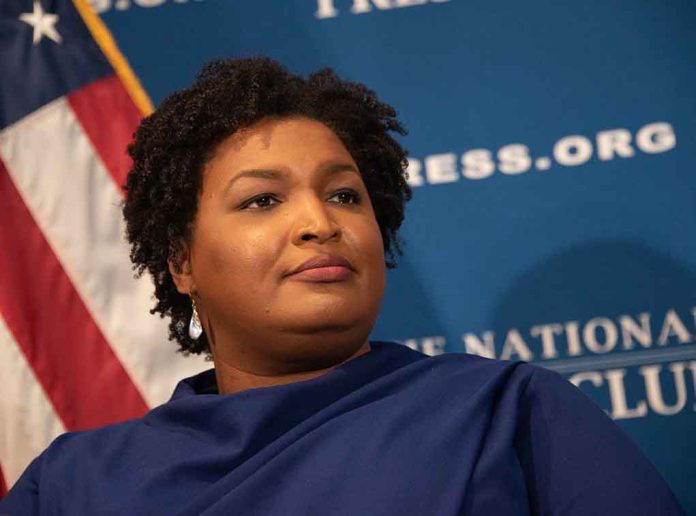 Democrat Star CALLS IN Security Guards – But There's A Problem…
(LibertySons.org) – In 2020, the Left began pushing the idea of defunding the police. Since then, Georgia Democrat and gubernatorial candidate Stacey Abrams showed her support for the movement by surrounding herself with organizations calling for measure. However, as she campaigns to lead the Peach State, she has a security entourage following her, which seems a bit hypocritical since she's willing to spend money to use the police to protect herself, while supporting those who call for their abolishment.
Defunding the police for thee, but not for me…. https://t.co/kdN7eSe8pS

— Free Telegraph (@freetelegraph) July 5, 2022
Records show that in 2021, Abrams spent over $1.2 million on security. In the five months from December 2021 to April 2022, her campaign spent more than $450,000 to pay the Atlanta security firm Executive Protection Agencies.
Abrams' campaign says she supports holding law enforcement more accountable and reforming the criminal justice system in the state. In a Fox News Sunday interview, she addressed whether her stance was wrong. Abrams claimed she never wanted to defund law enforcement. In fact, she said she has always wanted criminal justice reform and is pushing to increase pay for employees within the field.
Yet, the political activist serves on the board of the Marguerite Casey Foundation, which supports defunding police. While the lawmaker has tried to deny she ever took a similar stance, the organization said she approved of increasing its anti police funding efforts.
Abrams seems to be confused as to what her message is. Surely spending over a million dollars on security shows she understands the value of law enforcement but is the move contradicting the public image she has regarding the criminal justice system?
~Here's to Our Liberty!
Copyright 2022, LibertySons.org