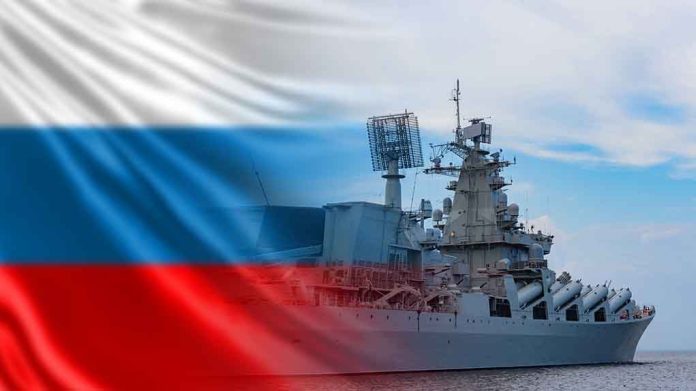 (LibertySons.org) – Since the end of February, the conflict between Russia and Ukraine has been raging on, with reports of massive damage and loss on both sides. The latest news reports an explosion occurred on a Russian warship in the Black Sea on April 13. According to Newsmax, officials in Ukraine claim responsibility.
The Moskva, a key Russian warship, suffered catastrophic damage that a Ukrainian official said was from a defense missile strike, though Russia claimed it was caused by an onboard fire. Russia said the fire was contained, but Ukraine said the ship sank. https://t.co/Ko7EqtKxyP

— The New York Times (@nytimes) April 14, 2022
Officials from Moscow did not acknowledge an attack by Ukraine on the ship — Moskva. They noted a fire that caused damage to the ship. The people on board had to evacuate, but it reportedly stayed afloat. However, Ukraine insists it launched a successful attack, with one of the country's officials saying the boat sank.
Whether sunk or out of commission, the loss of the vessel diminishes the firepower of Russian soldiers in the Black Sea. The Kremlin has had multiple setbacks in the conflict. Troops have pulled back in the north, including in Kyiv, after failing to find success in the region. The new focus appears to be on the east.
Satellite images of the area could not ascertain what happened or if the vessel was still above water immediately following the incident. The Washington Post reported on April 14 that the fire on the ship appeared to continue to burn as Russian troops pulled it to Sevastopol. It is unclear, due to conflicting reports, if a missile caused the damage.
~Here's to Our Liberty!
Copyright 2022, LibertySons.org