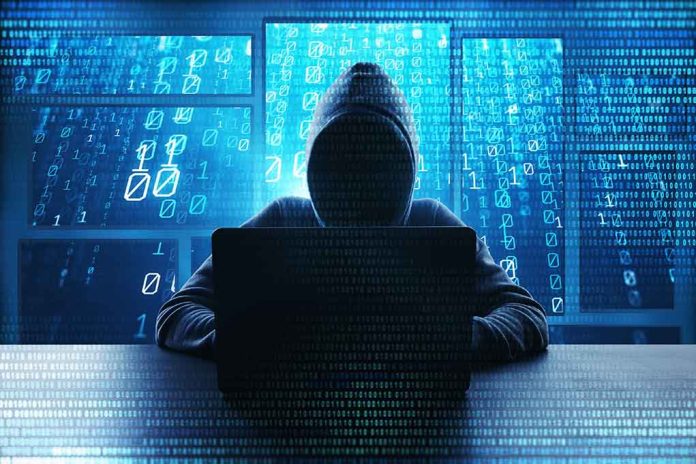 Russian Media Hacked – Antiwar Messages Sent
(LibertySons.org) – Various tweets revealed hackers cut into Russian television during the May 9 airing of the Victory Day parade. A post from a BBC reporter shows the television guide where text issued an anti-war message. Russian news site Gazeta.ru posted a statement explaining a hack occurred and interrupted programming.
Hackers Swapped Out Russian State TV Listings With Anti-War Message on 'Victory Day' https://t.co/guryuAryHe pic.twitter.com/LcifStesAn

— Gizmodo (@Gizmodo) May 9, 2022
The hacker group Anonymous tweeted about the move as well. However, the group did not take credit for it.
Good Morning Moscow 🌻 Доброе утро Одесса ¯(ツ) ⁄ ¯ #SlavaUkraini 🇺🇦 pic.twitter.com/AEThMDZT69 https://t.co/4z6nWy41Ce

— Anonymous (@YourAnonNews) May 9, 2022
The New York Post reported Russia heavily censors its television. Still, the hackers were able to air messages against the conflict with Ukraine, blaming leaders for the deaths of children and telling citizens their government was lying to them. The hackers communicated over the airways just prior to a speech from Russian President Vladimir Putin.
In March, the Kremlin enacted a law to punish any media outlet or journalist with prison time for publishing or airing information that goes against the official messages of the government. The White House condemned this aggressive act of censorship. Still, the hackers were bold in their direct opposition to the law.
According to Newsweek, leaders in Russia haven't made any comment on the hack despite requests. Nobody has stepped up yet to admit to the act.
~Here's to Our Liberty!
Copyright 2022, LibertySons.org