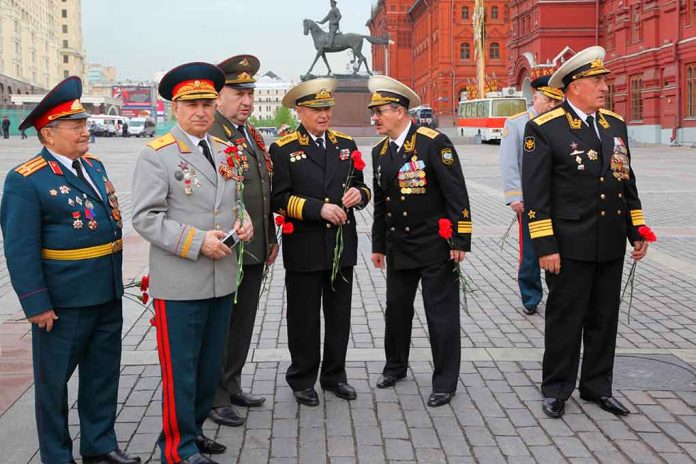 Russian Military Commander Shot During Draft Event in Siberia
(LibertySons.org) – On September 21, Russian President Vladimir Putin announced a military draft for the first time since World War II. His proclamation kicked off protests and an exodus of men within the age range to serve. The decision also resulted in violence, with the most extreme attack occurring on September 26 in Siberia. A man opened fire at a draft sign-up event and seriously injured an officer.
A gunman shot a local Siberian military leader.

A graphic video posted on social media displays the latest demonstration against Russian President Vladimir Putin's mass mobilization of 300,000 troops.https://t.co/zNQg2fhiZL

— POLITICOEurope (@POLITICOEurope) September 26, 2022
Ruslan Zinin stands accused of shooting Chief Enlistment Officer Alexander Yeliseyev at point blank range. The suspect was wearing camouflage as he aimed at the victim, who had just given a speech about serving Russia in the conflict with Ukraine. Witnesses said Zinin responded to the officer's words just before opening fire with remarks saying nobody would be going to fight. The man allegedly fired off at least three rounds into the room full of people.
Zinin's mother explained he was angry because the military drafted his best friend. She noted his buddy was not a reservist despite the government promising only to draft those who were.
Irkutsk Regional Governor Igor Kobzev said Yeliseyev is in "critical condition" at the hospital. Zinin is in custody, facing charges of weapon possession and injuring the officer.
The mobilization has also resulted in a man setting himself on fire, angry crowds gathering in major cities, confrontations between police and civilians, and the burning of draft centers. Rumors swirl that the government may close the borders and enact martial law to combat the strong reactions.
~Here's to Our Liberty!
Copyright 2022, LibertySons.org