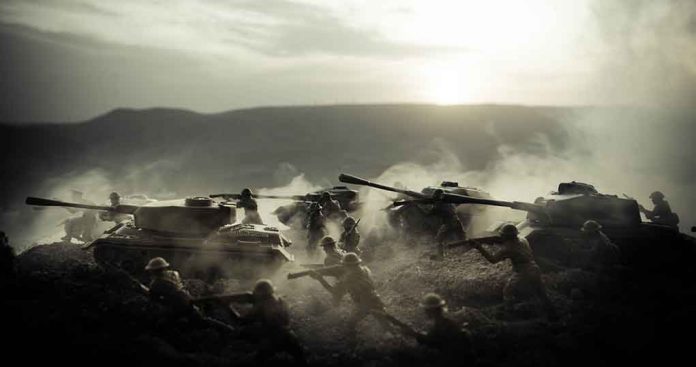 (LibertySons.org) – Most sources agree that Russian troops have had a much harder time than they anticipated in Ukraine. The frustrations continue to rise as military convoys fight to take over key cities, including the country's capital, Kyiv. The latest reports say they stalled about 15 miles away from their target.
Russian forces stalled 15 miles outside Kyiv as shelling of the city continues: UK intelligence https://t.co/4GkGpD1bvy

— Washington Examiner (@dcexaminer) March 21, 2022
Despite heavy military action just north of the city, Russia hasn't been able to move ahead in its goal of taking Kyiv. In an intelligence update on March 21, the British Ministry of Defense (MOD) announced that the intense battles outside the city would likely continue, as Kyiv remains the key target for the Kremlin. The MOD predicted that troops would continue encircling Kyiv, noting increased efforts to get to the capital.
Latest Defence Intelligence update on the situation in Ukraine – 21 March 2022

Find out more about the UK government's response: https://t.co/o31FnBRw3w

🇺🇦 #StandWithUkraine pic.twitter.com/reAkTEnHFj

— Ministry of Defence 🇬🇧 (@DefenceHQ) March 21, 2022
The Ukrainian military continues a fierce defense of its cities. Russian troops tried ordering the surrender of Mariupol, but the opposition resisted, and the government was firm about holding its cities and never giving up.
Intelligence points to Russian President Vladimir Putin believing a victory in Ukraine would be easy. Still, as the fighting drags on into week four, it is clear he underestimated his foe. The slow progress and inability to capture any major city are huge blows to the Kremlin. A study from the Institute for the Study of War from March 19 called the situation a stalemate and projected Russia would likely fail in its current campaign.
~Here's to Our Liberty!
Copyright 2022, LibertySons.org