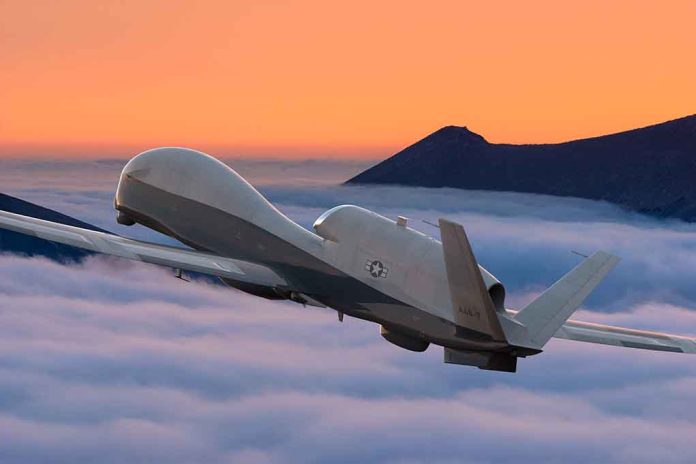 (LibertySons.org) – The relationship between the US and Russia is likely to be even more strained after a recent collision between an American aircraft and a Russian fighter. According to a Department of Defense (DoD) statement, a Russian Su-27 aircraft hit a US Air Force MQ-9 unmanned aerial vehicle over the Black Sea on March 14.
US Airforce General James B. Hecker, Commander of US Air Forces Europe and Air Forces Africa, stated that the Russian jet had flown in front of and "dumped fuel on" the MQ-9 in a "reckless… and unprofessional manner" several times leading up to the collision. He noted the Russian Su-27 eventually made contact with the MQ-9, which was "conducting routine operations."
NEWS: Russian Fighter Strikes U.S. Unmanned Aircraft https://t.co/3eDx3LYW6v

— Department of Defense 🇺🇸 (@DeptofDefense) March 14, 2023
Pentagon Press Secretary, Air Force Brigadier General Pat Ryder, spoke with the media about the incident and confirmed that while the Russian aircraft most likely suffered damage, it was still able to land.
The incident marks the first direct confrontation between the United States and Russia since President Vladimir Putin's army invaded Ukraine. John Kirby, National Security Council Communications Director, informed reporters that Jake Sullivan, the Director of National Security, had briefed President Joe Biden on the collision. However, the president has yet to speak publicly about the matter.
This event occurred shortly after Biden and other White House officials traveled to Ukraine to pledge billions of dollars of United States taxpayer-funded aid. During a recent campaign event in Iowa, former President Donald Trump pledged to end the Russia-Ukraine war in 34 hours or less.
The former president's eldest son, Donald Trump Jr, criticized the Air Force's statement and accused them of worrying more about environmental concerns than the start of World War III.
The US Air Force issued a statement accusing the Russian aircraft of acting in a "reckless, environmentally unsound and unprofessional manner."

Environmentally unsound. That's what they're worried about. Not the start of WWIII.

Trump was right again!
https://t.co/LxJAP5JgbM

— Donald Trump Jr. (@DonaldJTrumpJr) March 14, 2023
According to Hecker, the recent collision falls in line with the pattern of dangerous and aggressive actions Russian pilots have performed when interacting with Western aircraft over international airspace. Ryder mentioned that the US Air Force flying aircraft throughout international airspace is nothing new. He added that American officials ensure their pilots do so in coordination with international and host nations' laws where applicable.
~Here's to Our Liberty!
Copyright 2023, LibertySons.org