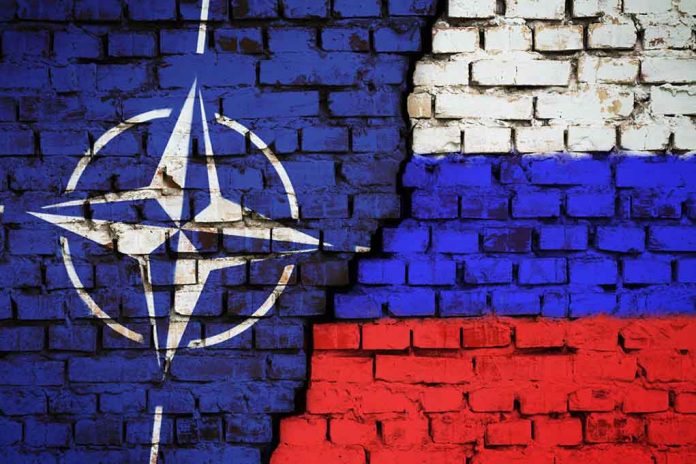 (LibertySons.org) – From the beginning of Russia's war against Ukraine, Moscow has warned the North Atlantic Treaty Organization (NATO) to stay out of the conflict. But various members of the group have wholeheartedly offered support to the attacked nation. Once again, the Kremlin is shouting out a message of caution that the countries butting their noses into the conflict had better back off.
The Threat of NATO
NATO is a concern for Russia because of the alliance's strength and commitment to each other. The powerful organization includes 30 member nations from around the globe that vowed to protect each other in the face of aggression. In other words, if someone attacks one, it's an attack against them all.
Ukraine is not a member, but it has allies in many countries that are part of the organization. Because of the friendly relationships, leaders have been helping Kyiv by providing weapons, supplies, and equipment to allow the nation to maintain a strong defense against its Russian foe.
But Moscow knows if NATO becomes fully involved in the conflict, it will spell trouble. Thus, the Kremlin keeps launching threats at the organization to keep its distance.
The Latest From Moscow
Russian Deputy Foreign Minister Sergey Ryabkov issued a statement on December 8 to deter NATO from further involvement in the nation's conflict with Ukraine. He explained some of the organization's members are purposely trying to escalate the war. Ryabkov noted member nations are becoming more active and increasing their support of Ukraine, which is unacceptable. He also pointed the finger at the United States for being behind the alleged plan that he believes is making the conflict worse.
NATO's Messages
During NATO's Ministers of Foreign Affairs meeting on November 29 and 30, a discussion about Ukraine brought about an assertion from Latvia's Foreign Affairs Minister Edgars Rinkēvičs. He called Russia the "most serious and direct threat to NATO" and reportedly told Bloomberg that Ukraine should be allowed to use its supply of weapons to target places inside Russia in the name of defense.
Lithuanian Prime Minister Ingrida Simonyte explained to Politico that efforts to coax Russia into ending the war have fallen flat because Russian President Vladimir Putin has no interest in stopping it. She noted the solution right now is to continue providing Ukraine with much-needed weapons — including long-range missiles.
On December 7, NATO Secretary General Jens Stoltenberg spoke about maintaining the status quo. He implored alliance members to continue supporting Ukraine, stressing its importance, especially as winter approaches. The organization and its allies have not changed their stance on the war and the intention to continue supporting Ukraine without boots-on-the-ground involvement.
~Here's to Our Liberty!
Copyright 2022, LibertySons.org