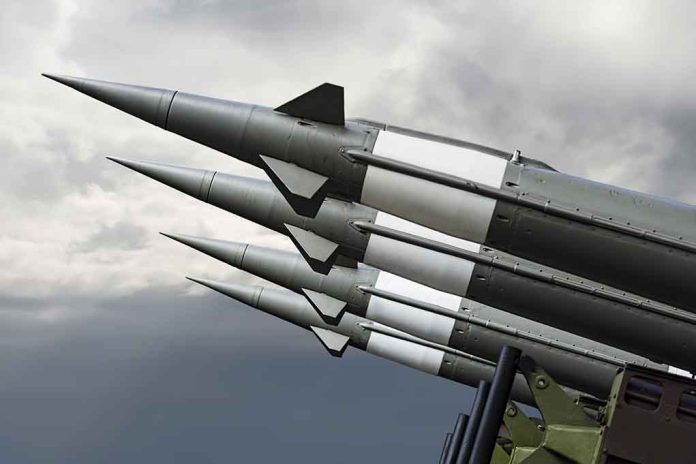 U.S. Missiles Hurt Russia – Video Footage Shows Putin's Worst Fears
(LibertySons.org) – Throughout the recent European conflict, the US has supplied Ukraine with High Mobility Artillery Rocket Systems (HIMARS) to help in the fight against Russia. The technology provides a longer range and more precise warfare. What's more, Kyiv claims their enemy can't defend against the weapon — the Kremlin says otherwise.
These HIMARS allow the Ukrainian military to hit targets beyond the front lines, and leaders say they are serving a pivotal role in helping the country overcome its adversary. The question is: Are they?
Russia Failing To Shoot Down US HIMARS Missiles https://t.co/f6NRmd0lxZ

— Sun5 (@55Sun5) July 21, 2022
Newsweek reported the advisor to Ukraine's internal affairs minister, Anton Gerashchenko, posted a claim on Telegram that the Russians were unable to hit the US-supplied missiles and take them down. Nexta TV posted a video on Twitter to back up his claims.
#Russian air defense unsuccessfully tries to shoot down HIMARS missiles flying towards the ammunition depot in #Skadovsk, #Ukraine, reports advisor to the Minister of Internal Affairs of Ukraine @Gerashchenko_en. pic.twitter.com/dLnUbg4fZR

— NEXTA (@nexta_tv) July 21, 2022
Moscow disputes what the advisor is saying. The Defense Ministry said on July 22 in a daily briefing that its military destroyed four HIMARS and a reloading vehicle. Officials proclaim the US is only prolonging the war with its support of the Ukrainian army.
Meanwhile, Ukraine's Presidential Advisor Serhiy Leshchenko explained Russia is trying to intimidate the US to discourage officials from continuing to offer aid. The nation called the supply of the missile systems a potential turning point that could change the conflict's path.
US Secretary of Defense Lloyd Austin announced during a July 20 press conference that the US would send four more HIMARS, bringing the total to 16. He noted the country is in great need of more firepower to fend off Russian advances. The secretary also credited the Ukrainian military with doing an excellent job using the technology.
Who is telling the truth about the state of affairs overseas? Are the US and Ukraine correct in their assessments that the HIMARS are an effective defense system, or are Russia's claims accurate?
~Here's to Our Liberty!
Copyright 2022, LibertySons.org