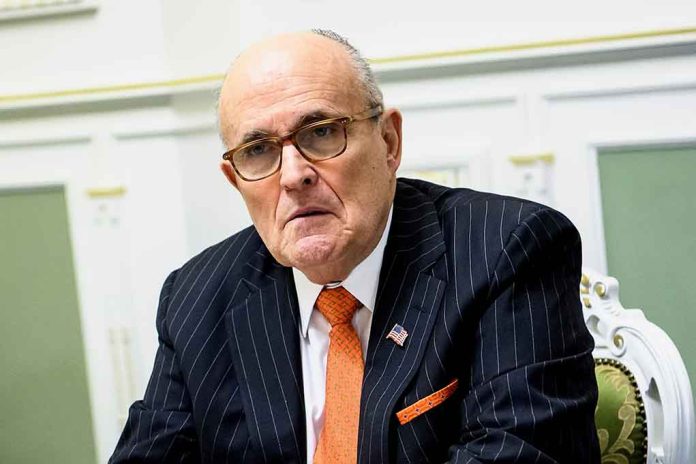 Rudy Giuliani's Ex Steps Forward
(LibertySons.org) – Former New York City Mayor Rudy Giuliani was on top of the world after his stellar performance following the 9/11 terrorist attacks. But these days, he's not doing so great. Federal agents raiding his home and a $1.3 billion defamation claim against him for election fraud accusations are only the tip of the iceberg. The latest blow to the disgraced attorney is a lawsuit filed by his ex-wife Judith Giuliani for $262,000.
Rudy Giuliani sued for $262K by ex-wife: What we know https://t.co/6IUWwQyhZU

— Phillip Rhinehardt (@Phillipdrphl) August 4, 2022
The attorney's former bride claims her ex-husband broke the terms of their 2019 divorce agreement. Her filing with the New York Supreme Court states he failed to pay her agreed-upon money for their home in Florida and housekeeping services. She also said a check he wrote her for $10,000 bounced, and he's failed to pay his half of private club fees, which she had to cover to avoid losing membership.
At the time of the couple's split, the two had a combined net worth of around $30 million. Judith Giuliani said her ex still owns real estate in some of the hottest markets, including New York and California. Plus, he makes money through his media work.
Still, her former beau lost his licenses to practice law in New York and Washington, DC, due to alleged ethics violations. He's also been accused of causing a stir while inebriated on election night in 2020, an accusation he says is completely false, and may have had involvement in election interference in Georgia.
Now, he might have to deal with jail time if he doesn't address the current issue with his ex-spouse.
What do you think of Giuliani's seemingly downward spiral?
~Here's to Our Liberty!
Copyright 2022, LibertySons.org