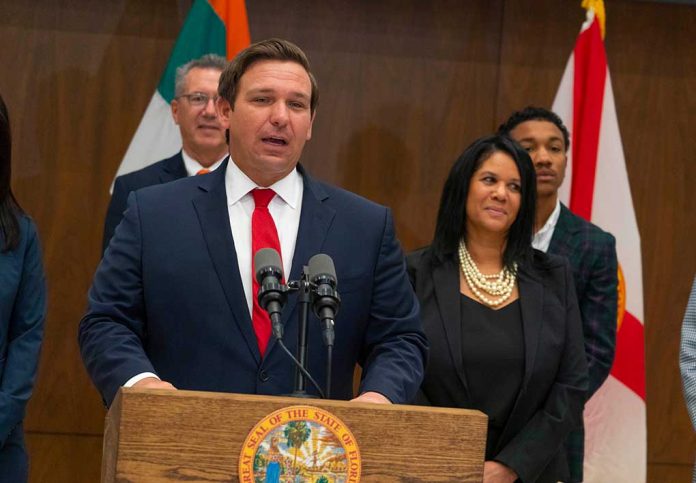 (LibertySons.org) – Florida Governor Ron DeSantis (R) submitted his plan for a new congressional map on April 13 to the Florida legislature. According to Politico, Republicans would pick up four seats under the proposal. The new map would undo recent gains by Democrats by putting positions held by Representatives Al Lawson, Charlie Crist, Stephanie Murphy, and Val Demings in jeopardy.
THANK YOU @GovRonDeSantis for stepping in to fix the Congressional Redistricting process in FL

RINO cowards @WiltonSimpson & @ChrisSprowls were trying to pass VERY liberal & awful maps before the Governor interjected

Floridians—do not forget what these RINOs attempted to do!

— Anthony Sabatini (@AnthonySabatini) April 12, 2022
The Florida legislature, controlled by the GOP, already indicated it would approve any plan the governor put forth, but they still must hold a special session to formally adopt it. DeSantis vetoed a previous map from the lawmakers on March 29. He stated his reasoning was due to concerns the map was unconstitutional. Republicans decided instead of trying to redo their own, they would allow the governor to submit one.
Representative Al Lawson issued a statement about the governor's map, calling it a "scheme by DeSantis to erase minority access districts" and a way to create more seats for his party. He said it is "partisan politics" that don't benefit the people of Florida.
Politico reported if the legislature accepts this new proposal, it could impact the US House of Representatives for at least the next 10 years. It heavily favors the GOP and removes districts that favor Democrats.
~Here's to Our Liberty!
Copyright 2022, LibertySons.org