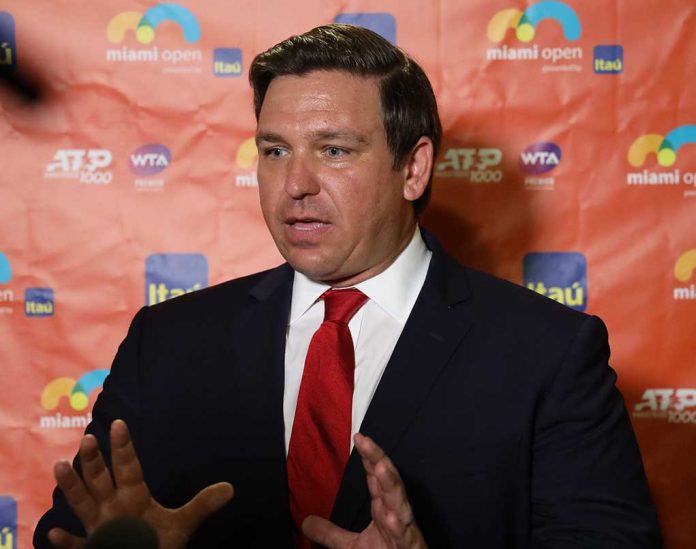 (LibertySons.org) – Politicos and pundits have long considered Florida Gov. Ron DeSantis (R) to be former President Donald Trump's top contender for the Republican presidential nomination despite the fact he hasn't officially declared his 2024 candidacy. The governor recently traveled to Washington DC and attended a meet-and-greet in the hopes of picking up some endorsements. Protestors gathered outside the event as DeSantis and other GOP lawmakers spoke inside.
The Florida governor traveled to the Capitol to attend the meeting at the Heritage Foundation, where he mingled with congressional Republicans. Authorities gathered around the building as protestors flocked to the event, waving flags and holding signs that read "Ron DeFacist." Yellow tape prevented the protestors from getting any closer as they chanted for the Florida governor to "go home." Some confronted attendees as they made their way in and out of the building.
DeSantis greeted by protests at event with GOP lawmakers | Just The News https://t.co/hVqK3ZU55g

— John Solomon (@jsolomonReports) April 19, 2023
DeSantis' trip to DC wasn't as fruitful as he likely hoped. Just The News reported the Florida governor has been trying to pick up endorsements for a possible presidential bid. But while many who attended the event had good things to say about DeSantis, only three House Republicans, including his former secretary of state, Representative Laurel Lee (R-FL), were willing to throw their support behind him. The Florida governor has so far been unable to snag an endorsement from the Senate.
The meet-and-greet comes as one of the party's mega-donors announced that they were putting the brakes on donating to DeSantis' potential 2024 campaign. For instance, Thomas Peterffy, once the richest man in the Sunshine State, recently told the Financial Times that he's put his support of the Florida governor "on hold" due to the Republican's position on abortion and his efforts to ban books. Peterffy said he's reluctant to back the governor, explaining his plan is to wait and see who emerges from the primaries with the best chance of winning the general election and back them with everything he has.
~Here's to Our Liberty!
Copyright 2023, LibertySons.org