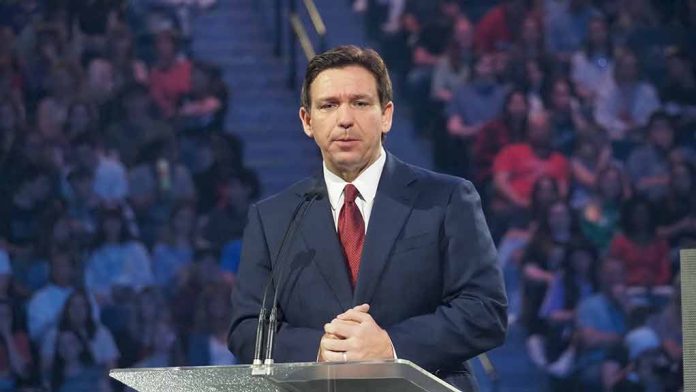 (LibertySons.org) – Republican candidates have begun stumping in New Hampshire and Iowa ahead of the primaries. Florida Governor Ron DeSantis and his wife Casey attended campaign events in Laconia, New Hampshire, on Thursday, June 1, where the governor gave a series of speeches. After one, the popular politician and a national reporter shared a prickly back-and-forth in which DeSantis repeatedly asked, "Are you blind?"
Associated Press reporter Steve Peoples questioned DeSantis while he interacted with a crowd of scores of voters, who were taking pictures and querying the candidate about his take on current political issues. People asked the governor why he didn't take voter questions. DeSantis reacted immediately, telling the reporter that crowds were approaching him to chat and asking what Peoples meant. Then he asked, "Are you blind? Are you blind?"
After Peoples answered that he wasn't blind, DeSantis again emphasized that he was interacting with people approaching him with their questions and concerns. The New York Post reported that the Never Back Down super-PAC claimed Peoples was the same AP reporter who allegedly falsely accused DeSantis of making "little effort to connect with voters" during a campaign event in Sioux Center, Iowa, on Saturday, May 13. Bryan Griffin, press secretary for DeSantis, said the reporter's behavior was "perfectly illustrative" of how mainstream media journalists close "their eyes and ears to the truth" to further their agenda.
Peoples explained through his Twitter feed that he aimed his query at the fact DeSantis had not taken questions from audiences after any of his speeches in Iowa or the one he'd just given in New Hampshire, which was a departure from the usual for candidates. He also said that the New Hampshire State GOP Treasurer, Alan Glassman, had expressed disappointment because the audience couldn't participate in a Q&A session after DeSantis's speech.
During his speech, DeSantis promised to "end the culture of losing" rife within the GOP. He also pointed to his record of accomplishments in the state of Florida.
~Here's to Our Liberty!
Copyright 2023, LibertySons.org