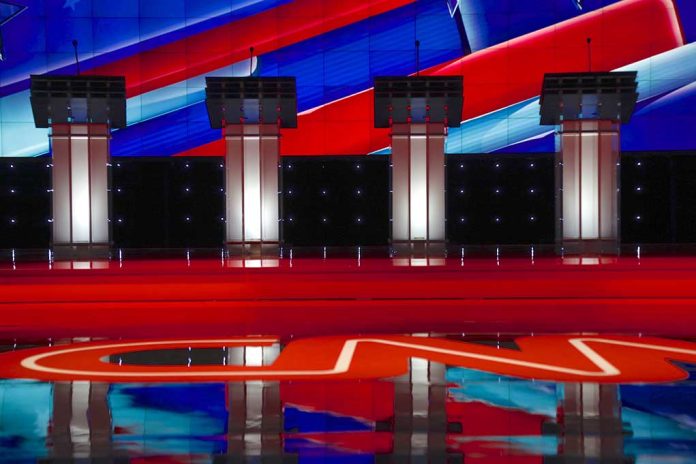 (LibertySons.org) – Presidential debates are an essential part of the election process. They enable the public to hear candidates' messages and get an idea of where they stand on the issues. The process helps voters make informed decisions on election day.
Debates need to be impartial and allow equal time for all candidates. Republicans are expressing concerns about their fairness, or lack thereof, in future debates. Ronna McDaniel, the head of the Republican National Committee (RNC), sent a message to the Commission on Presidential Debates (CPD) advising them to make changes to upcoming debates or Republican nominees will no longer participate.
Early 2024 battle: RNC has this letter to the debate commission complaining about "virtual" debate choice, plexiglass, moderator selection and many other things. Says without changes they will advise candidate not to participate. See demands and complaints below… pic.twitter.com/kxq5XowE9E

— Josh Dawsey (@jdawsey1) June 2, 2021
McDaniel's statement highlighted several issues with the 2020 Presidential debates, including unfair health guidance adjustments, scheduling issues with the first debate, moderator selection bias, and the CPD board members' partisanship. The overall message is clear: McDaniel feels the CPD no longer offers a fair forum in which debates may occur.
At this point, McDaniel's threat to boycott the debates is merely that — a threat. However, she did add some weight to her statement by advising the CPD that the RNC will look for alternatives should the commission fail to respond to her letter.
It will be interesting to see how the organization reacts to the demands. If candidates stand by the RNC, losing Republican participation would cause some significant issues for the CPD.
~Here's to Our Liberty!
Copyright 2021, LibertySons.org