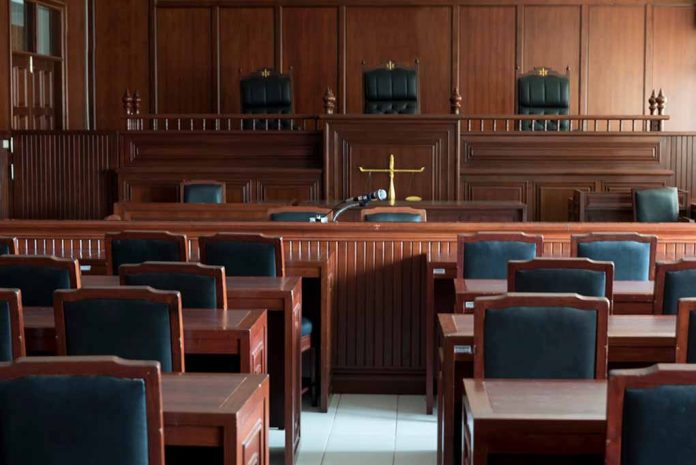 (LibertySons.org) – An attorney's goal is to call witnesses to support their case and provide further evidence to help prove charges. Sometimes, things go wrong, which is precisely what appears to have happened in the Rittenhouse case.
Kyle Rittenhouse faces charges for reckless and intentional homicide and attempted homicide resulting from a shooting on August 25, 2020. During the prosecution's witness examination at his trial, Richard McGinniss, who filmed video of the tragic incident, and Assistant District Attorney Thomas Binger got into an avid exchange.
Binger was asking about an interaction between Rittenhouse and one of the deceased men, Joseph Rosenbaum. The ADA's goal seems to have been to have McGinniss portray Rosenbaum in a sympathetic light by saying he was falling when the teen shot him.
Unfortunately for the prosecution, the eyewitness disagreed with that version of events. The total refusal to play along instantly rendered the DA's main argument questionable.
WATCH: Eyewitness Richie McGinniss of @DailyCaller testifies that Rosenbaum chased Kyle Rittenhouse and lunged for the rifle pic.twitter.com/AMtMPB572H

— Jack Posobiec 🇺🇸 (@JackPosobiec) November 4, 2021
Thomas began by asking McGinniss whether Rosenbaum was falling when Rittenhouse fired a gun towards him from a short distance away. Instead of confirming, as the ADA expected, the witness indicated that the now-deceased man was actually lunging at the armed teen instead.
Thomas and McGinniss then went back and forth over the same issue for approximately 12 additional minutes. Throughout the exchange, the DA seemed to focus heavily on the words "fall" and "lunge." Perhaps he hoped persistence would convince McGinniss to change his description of what transpired.
Legal Insurrection labeled the exchange a "train wreck," with attorney Andrew Branca saying this is not the way to question a witness or prove a case.
Kyle Rittenhouse has pleaded not guilty to all charges; he maintains he shot in self-defense.
~Here's to Our Liberty!
Copyright 2021, LibertySons.org