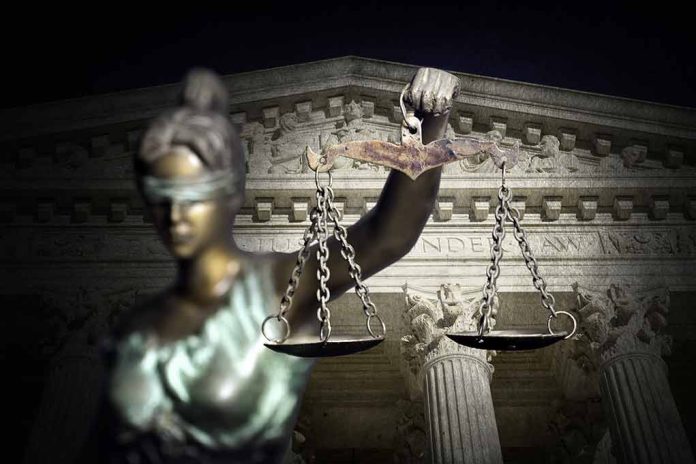 (LibertySons.org) – Janet Protasiewicz won her election to the Wisconsin State Supreme Court in April by 11 percentage points — a landslide victory by Wisconsin terms — and flipped the court from conservative to liberal for the first time in 15 years. One of the hot-button issues she ran on was so-called "rigged" election maps. Now Republicans are considering impeaching the newly elected Justice unless she agrees to recuse herself from any gerrymandering cases that come before the Wisconsin Supreme Court.
In an August 11 radio interview, Assembly Speaker Robin Vos (R ) told WSAU host Meg Ellefson that Protasiewicz couldn't act impartially on certain topics given her position during the campaign. Yet, Vos stated it was too soon to consider impeachment proceedings.
"Elections have consequence," Vos stated. He pointed out that talk of impeachment so soon after someone has taken the oath of office "makes impeachment seem […] more casual or cavalier" than it is intended to represent. The speaker said he wants to see how Protasiewicz reacts to court districting cases before deciding whether to pursue the nuclear impeachment option.
As recently as September 12, Vos softened his rhetoric slightly, endorsing turning election maps over to a non-partisan third-party agency to bypass redistricting laws and avoid further dispute with Protasiewicz over recusing herself from gerrymandering lawsuits. Yet, Democratic Wisconsin Governor Tony Evers accused Vos and fellow GOP legislators of attempting to retain control of district maps by selecting a legislature-approved entity to redraw them.
Republicans hold the majority in the state Assembly and the two-thirds majority required in the Senate to finalize an impeachment. However, Ben Wikler, the Wisconsin Democratic party chair, warned that GOP legislators threatening Protasiewicz with impeachment equated to an "unconstitutional abuse of power to nullify a landslide election" that would erase more than 1 million constituents' votes. He said such a move would likely alienate voters.
Few GOP legislators have publicly committed to impeachment as the controversy has grown. In fact, State Rep. Paul Melotik said he doesn't support impeachment proceedings because Protasiewicz has committed no crime.
~Here's to Our Liberty!
Copyright 2023, LibertySons.org