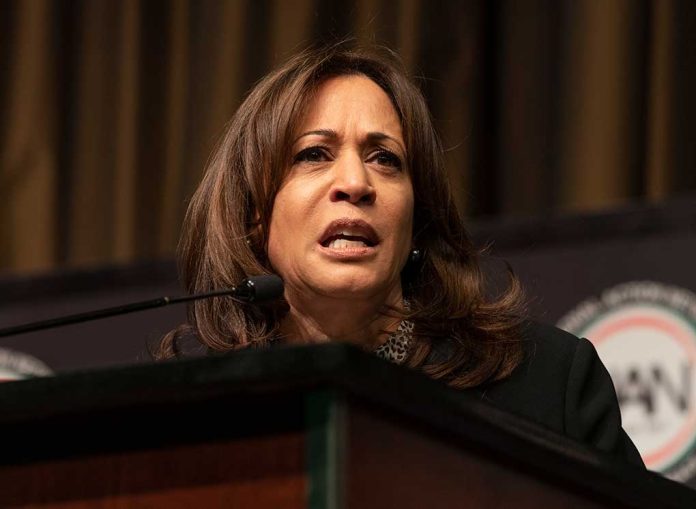 (LibertySons.org) – A string of incidents involving unauthorized aircraft entering the country's air space has Americans looking to the skies. Since February 4, US air power has shot down unidentified flying objects on four separate occasions. US officials have confirmed that the first one was a spy balloon from China, the other three remain unidentified. Vice President Kamala Harris recently came forward and declared the incident involving the balloon shouldn't affect US-China relations. Her comment provoked a swift rebuke from congressional Republicans.
The vice president spoke with POLITICO about the recent events. When the outlet asked her about whether or not downing the balloon would harm America's relationship with China, she declared she didn't "think so, no." Harris then went on to claim that everything that has occurred in recent weeks is in line with the administration's approach, which the vice president explained was to strive for "competition, but not conflict or confrontation.
While her comments are the White House's clearest effort to prevent further deterioration of US-China relations, Republicans feel her response wasn't serious enough.
Senator Rick Scott (R-FL) took to Twitter to air out his frustration. The Florida Republican criticized Harris, claiming her response was "incredibly incompetent," adding the Chinese Communist Party (CCP) "spies on Americans" without worrying about the potential backlash.
What an incredibly incompetent thing to say. The CCP spies on Americans without fear of the repercussions, & @KamalaHarris is acting like it's no big deal!?

This admin's appeasement & weak leadership are creating chaos. They need to take a stand for once. https://t.co/GLSe3CMNQZ

— Rick Scott (@SenRickScott) February 15, 2023
Senator Marsha Blackburn (R-TN) expressed similar feelings regarding the vice president's remarks. The Tennessee Republican noted that Harris's comments are an indication that Biden's administration wouldn't be "getting tough" on the CCP.
Kamala Harris said the Chinese spy balloon that flew across our country and spied on Americans doesn't impact our relations with China.

It sounds like the Biden administration won't be getting tough on Communist China.

— Sen. Marsha Blackburn (@MarshaBlackburn) February 15, 2023
Daily Mail reported that Rep. Dan Crenshaw (R-TX) stressed the fact the White House doesn't have a "strategy to deal with China" or any desire to create one is shocking.
In addition to the GOP's criticism of Harris, they've been equally critical of the White House for not taking action against the Chinese balloon sooner.
On February 4, a US F-22 Raptor shot down the previously noted spy balloon over the coast of South Carolina after it was originally spotted in American air space on January 28. The Chinese device flew over several sensitive American military bases. US officials took the debris to a research facility at the FBI headquarters in Quantico, Virginia for analysis. President Joe Biden had reportedly wanted to have the flying object shot down sooner, but the Pentagon urged him to wait until it was over the water to avoid potentially harming Americans with the resulting debris.
~Here's to Our Liberty!
Copyright 2023, LibertySons.org