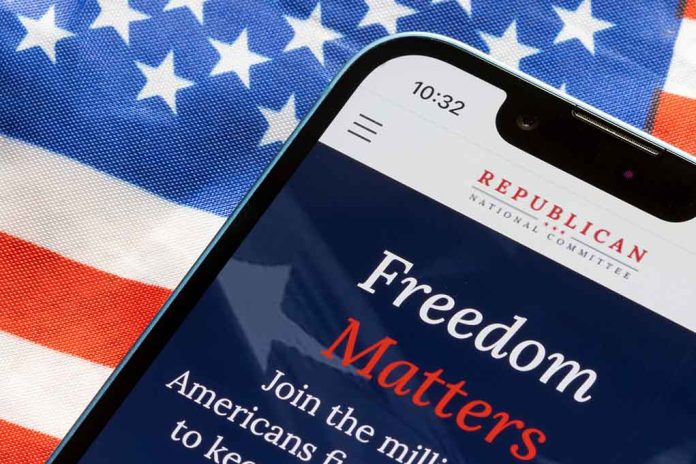 (LibertySons.org) – Democrats are looking to push higher tax rates on corporations and the wealthy, claiming they don't pay their fair share. Meanwhile, the GOP is set on preventing businesses from becoming further politicized. However, congressional Republicans are currently plotting to target progressive companies with an avalanche of bills.
GOP lawmakers in both chambers don't agree on everything, but they agree that freedom of speech is under attack and that big tech poses a severe threat to the First Amendment. Senator Mike Braun (R-IN) told the Daily Caller that with "too much concentration" on any single thing, problems could arise. The Indiana Republican explained overconcentration leads to "bad behavior" because there's no one to keep them honest.
Senator Eric Schmitt (R-MO) said there was an entire movement dedicated to bringing "woke ideology everywhere." The Missouri Republican declared, "it's nuts," and mentioned the need for people to come forward and take action to oppose the movement.
Big Business is about to meet its match https://t.co/STr48OBeQV

— Daily Caller (@DailyCaller) February 11, 2023
During his time as Missouri's attorney general, Schmitt investigated a group of financial institutions promising to issue loans to reduce carbon emissions and joined lawsuits against Morningstar, a financial ratings firm, Facebook, and Twitter. The Republicans discovered that federal agents had consistently provided social media platforms with a list of people they claimed were spreading false information. The companies would then shut their accounts down.
Schmitt noted that the government's involvement in censoring free speech should be a bipartisan concern. The Missouri Republican declared Big Tech needs to be broken up.
Another concern of the GOP is environmental, social, and governance (ESG) investing, which allows retirement and other financial firms to pick and choose stocks they invest in using other people's money based on ideology. Before ESG investing, firms had to make these decisions based on economic factors.
Senators Braun and Schmitt are both taking on progressive businesses in different ways. The Indiana Republican has introduced legislation that would reverse Biden's rule allowing firms to use ESG investing. Meanwhile, Schmitt supported a Department of Justice lawsuit that would fracture Meta, the parent company of Facebook. Republicans in both chambers are pledging to present more bills to fight the politicization of businesses.
~Here's to Our Liberty!
Copyright 2023, LibertySons.org