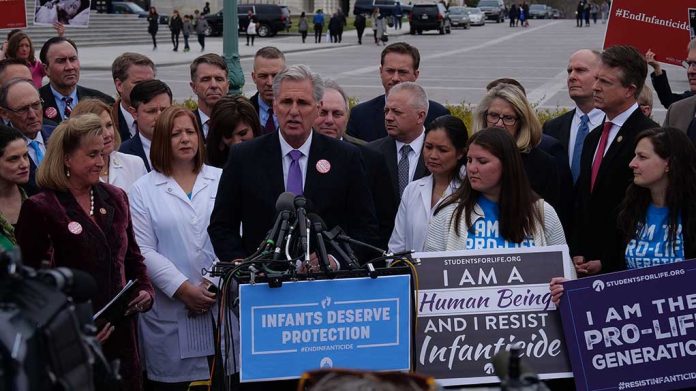 (LibertySons.org) – The House passed the debt ceiling compromise bill by a vote of 314 to 117 on Wednesday, May 31. Democrats contributed 165 votes to Republicans' 149 to avert a default. The agreement hammered out between President Joe Biden and House Speaker Kevin McCarthy (R-CA) moved on to the Senate for approval before heading to the President's desk. Still, conservative hardliners, angry over what they see as McCarthy's capitulation, are threatening payback and could move against the Speaker's gavel in the coming weeks.
On Tuesday, Texas Rep. Chip Roy (R), one of the Freedom Caucus members, spoke about the bill, asking Republicans to reject the legislation even if it resulted in default. He claimed McCarthy's compromise had "torn asunder" the GOP conference, warning, "No matter what happens, there is going to be a reckoning."
Other conservative voices joined the chorus. For example, Rep. Dan Bishop (R-NC) accused McCarthy of "emasculating himself and the Republican majority" during an interview with Steve Bannon on the host's "War Room" podcast on Tuesday. He called the compromise a "capitulation" of the ideals the House GOP caucus established in January when McCarthy endured 15 historic votes to become Speaker. Bishop said he would "absolutely" consider a motion to vacate as an option.
Rep. Ralph Norman (R-SC) called the bill "insanity," according to the New York Post. "No one claiming to be a conservative could justify a YES vote," argued Rep. Bob Good (R-VA). Pointing to $35 trillion in expected debt by 2025, Rep. Ken Buck (R-CO) lamented, "I am appalled by the debt ceiling surrender." Rep. Lauren Boebert (R), also from Colorado, mirrored Buck's indignation, saying, "Our voters deserve better than this." She added, "We can do better."
Rep. Nancy Mace (R-SC) ranted about the brokenness of DC in a tweet. She lodged her disapproval of the debt ceiling deal, commenting, "Republicans got outsmarted by a President who can't find his pants."
~Here's to Our Liberty!
Copyright 2023, LibertySons.org