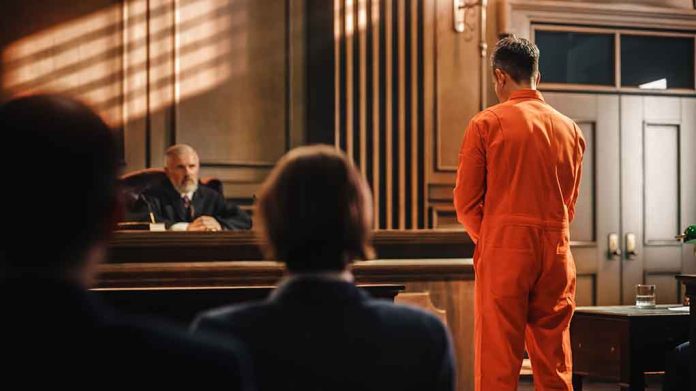 (LibertySons.org) – The McHenry street dance was supposed to be a community celebration after a long summer's work and nearly two years of isolation. Instead, alcohol, a supposed political argument, crowds, and paranoia turned the event into a tragedy. Now, the 42-year-old man who used his vehicle to knock down and run over an 18-year-old Republican boy, killing him, has pleaded guilty to manslaughter, saying he feared for his life from a hate group.
Shannon Brandt entered the plea on Thursday, May 18, saving the victim's family the torment of a trial. Based on court documents obtained by Fox News, Brandt told police he purposely struck pedestrian Caylor Ellingson outside a bar with his SUV in the early morning hours of September 18 because he'd had a political argument with the teen. He believed Ellingson was following him and had called people who were "coming to get him."
North Dakota Man Pleads Guilty To Manslaughter After Hitting Teen He Feared Was Linked To 'Republican Extremist Group' https://t.co/tJOiFoKhPx pic.twitter.com/uIoDqy99HP

— Daily Wire News (@DailyWireNews) May 19, 2023
Brandt fled the scene and then returned and called 911. He registered a blood-alcohol level of 0.08 on a breathalyzer. Neighbors reported that Brandt had a history of violence when he drank, and some reported him as mentally unstable. Despite Brandt's claims, investigators say the argument didn't involve politics, and they couldn't find any evidence that Ellingson was a "Republican extremist."
Prosecutors initially charged Brandt with vehicular homicide, according to an AP report. Later, they upgraded the complaint to felony murder and added a charge for leaving a crime scene resulting in death. But Brandt recently pleaded guilty after Foster County State Attorney Kara Brinster agreed to reduce the complaint to felony manslaughter and dismissed the leaving the scene of an accident charge. Media outlets weren't able to reach Brinster for comment.
Ellingson recently graduated from Carrington High School and enrolled in a program to become an ultrasound technician. Brandt faces up to 10 years in prison.
~Here's to Our Liberty!
Copyright 2023, LibertySons.org