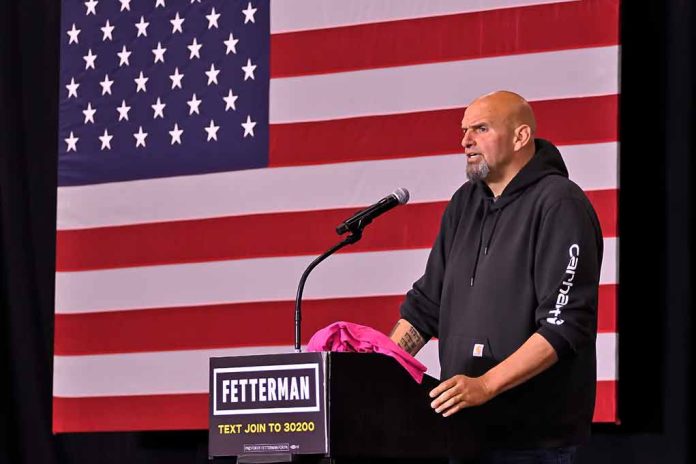 (LibertySons.org) – Sen. John Fetterman (D-PA) has recently overcome several health battles. One year ago this month, Fetterman suffered a debilitating stroke, and experts claim that while he experienced a rapid recovery in the first few months, he may continue to see improvements over the next year.
Yet, the stroke recovery was just one battle in the overall war Fetterman waged to become Pennsylvania's US senator on his own terms. Now, roughly six months into his term, those close to Fetterman claim his trademark outfits truly display his "robust recovery" from clinical depression, according to an AP article.
Lifelong Clinical Depression
Fetterman entered Walter Reed National Military Medical Center in February to treat his ongoing depression. Colleagues and aides who saw him in January noted Fetterman's lack of effect. Freshman Sen. Peter Welch (D-VT), who shared orientation with Fetterman and struck up a friendship, said, "He was struggling. And now he's a joyful person to be around," according to AP.
Some might argue that Fetterman should have celebrated. He survived the stroke, learned to cope with the residual auditory processing disorder which the stroke caused, overcame the objections of his critics and campaign rivals to win his Senate election, and sailed into Washington, DC, as a popular progressive Democrat known for organizing communities and bringing people together.
Yet, many didn't understand that Fetterman also suffered from a lifelong battle against clinical depression. Unlike situational depression, a transitory condition that a major health event like a stroke might trigger, doctors say clinical depression has its roots in an individual's genetics and brain chemistry. Experts estimate that nearly one in 10 Americans has experienced a major depressive episode in the last year based on recent data.
Katie Britt (R-AL), another freshman senator, also became friends with Fetterman and Welch during orientation and remained close with Fetterman while he received treatment at Walter Reed. She noted that the Pennsylvania senator had been very reserved in January, hesitant to initiate conversations.
At his invitation, she visited him in the hospital. In an AP interview, she said, "his energy and demeanor were totally different." Now, Britt describes her new friend as loud and outgoing. She remarked that treatment made a visible difference for Fetterman.
Do Clothes Really Make the Man?
If William Shakespeare inadvertently coined the adage in Hamlet, then Mark Twain reinforced the aphorism with wit, saying, "Clothes make the man. Naked people have little or no influence in society."
Yet, part of Fetterman's recovery included reverting back to wearing his trademark hoodie sweatshirts, gym shorts, and athletic shoes. When the freshman Pennsylvania senator entered orientation, his staff begged him to wear suits, ties, and dress shirts — the required senate floor attire — and he reluctantly complied. But after Fetterman's discharge from the hospital, he checked with the Senate parliamentarian and found he could wear his casual clothes so long as he didn't walk on the Senate floor. Instead, he casts his votes from the doorway of the Democratic cloakroom or a side entrance.
His attire has drawn criticism from some in Congress, including Rep. Lauren Boebert, who tweeted that the senator had "redefined Casual Friday on a Thursday morning."
John Fetterman redefined Casual Friday on a Thursday morning.

It's truly unbecoming for someone to show up like that to any job, let alone a job that only 100 people are elected to do.

There's just no excuse for it.

— Lauren Boebert (@laurenboebert) May 19, 2023
For Fetterman, appropriate medical treatment and the freedom to express himself through his attire have made a world of difference.
If you or someone you know is struggling, suffering from depression, or considering self-harm, free, confidential help is available day or night by calling the Crisis Lifeline at 988.
~Here's to Our Liberty!
Copyright 2023, LibertySons.org