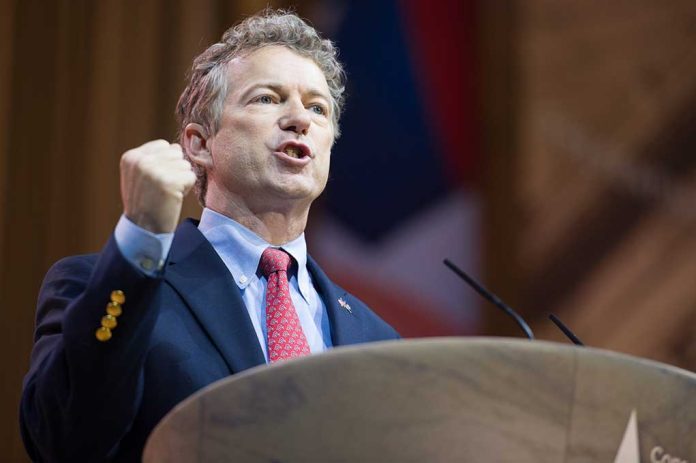 Rand Paul Wants This Law Immediately Repealed
(LibertySons.org) – On August 13, Senator Rand Paul (R-KY) took to Twitter to express his feelings about the Espionage Act. The Kentucky lawmaker stated he wants to see it repealed while including a link to a piece backing his position from The Future of Freedom Foundation (FFF). The organization claims the legislation began as a way to silence and punish people who were against US involvement in World War I and says it's grown to become a tool of censorship.
The espionage act was abused from the beginning to jail dissenters of WWI. It is long past time to repeal this egregious affront to the 1st Amendment.

Repeal the Espionage Act – The Future of Freedom Foundation https://t.co/3KCgujpS9z

— Rand Paul (@RandPaul) August 13, 2022
The move by Paul came shortly after an FBI raid on former President Donald Trump's Mar-a-Lago residence, when the details of the warrant emerged. The document shows part of the justification for the operation was due to a possible violation of the Espionage Act. That particular law allows federal officials to prosecute anyone who takes information relating to national defense and shares or uses it to the country's detriment.
Still, the FFF cited the law's misuse in the case against WikiLeaks founder Julian Assange, who Paul has supported in the past, as a basis for its repeal. The organization said the outdated act is a weapon to silence journalists, violating the First Amendment.
Experts say the problem with the measure is that it lacks the details necessary to define national defense and doesn't allow for exceptions for valid motivations. Because of the broad language, they claim officials can easily use it as a weapon against political rivals or perceived threats.
~Here's to Our Liberty!
Copyright 2022, LibertySons.org