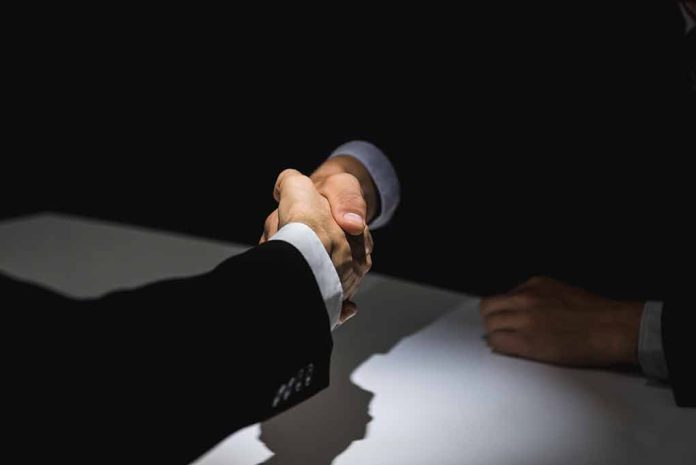 (LibertySons.org) – GOP presidential hopeful Vivek Ramaswamy has described some unique mechanisms for achieving his vision of rebuilding America First policies. Coming from a high-tech business background rather than the world of politics, he believes he has a unique perspective.
One recent proposal would involve firing more than 75% of the federal workforce and closing several agencies. Ramaswamy would target the FBI, the Bureau of Alcohol, Tobacco, Firearms, and Explosives, the Department of Education, the Nuclear Regulatory Agency, the Food and Nutrition Services arm of the US Department of Agriculture, and others.
However, Ramaswamy has taken the surprising position that, as president, he would have the executive authority to restructure the government without Congressional approval. Furthermore, he expects the Supreme Court to support his position.
A Treatise To Shut Down the Deep State
Echoing a far-right rallying point, Ramaswamy has followed former President Donald Trump's lead in saying that a clandestine bureaucracy really runs the federal government, a shadow government sometimes called "the deep state," mostly comprised of unelected career federal employees who conspire with industrial and financial entities and leaders to set national policies.
Ramaswamy argues that the deep state's existence is why administrations seem ineffective at implementing policy changes. His solution is to excise the deep state by purging the federal government of more than 75% of its current employees and radically restructuring federal agencies to make them more efficient.
The prospective GOP candidate laid out his plan and legal justifications in a campaign white paper before his presentation to the America First Policy Institute on September 13. He and his legal team cite the presidential rule-making authority, administrative procedure authority, and the reduction in force permissions as the basis for implementing a unilateral government restructuring plan without Congressional approval.
The presidential hopeful believes he could successfully defend his actions to the Supreme Court, solidifying executive powers. He projects a 6 to 3 ruling in his favor along ideological lines, with conservative Court members supporting his view.
Constitutional Scholars and Others Weigh In
Yet, despite Ramaswamy's overflowing confidence in his plan, Constitutional scholars suggest it's not as straightforward as the business mogul presents it. Peter Strauss, a Columbia University Law professor, pointed out that the candidate's treatise cherry-picked portions of statutory law to argue that a president could restructure government on a wholesale basis without honoring the letter of the Constitution. Congress must create agencies and departments which the executive branch administers.
Peter Shane, a Constitutional law professor and scholar-in-residence at the New York University Law School, called the paper "fantastical," according to The New York Times.
The Congressional Budget Office cites statistics indicating the federal government currently employs about 2.25 million civilian employees, about 60% of whom work for one of three departments: Defense, Homeland Security, or Veterans Affairs. Experts warn that Ramaswamy's proposal to eliminate 75% of all federal employees would translate to firing almost 1.7 million people, impacting government services at every level.
~Here's to Our Liberty!
Copyright 2023, LibertySons.org