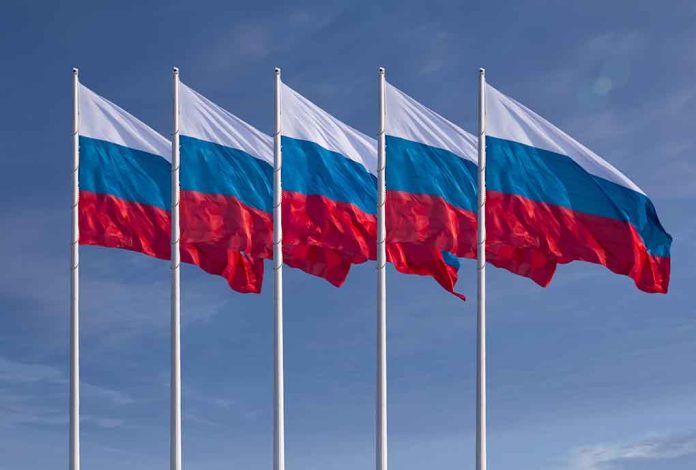 Russia Holding Illegal Annexation Vote in Occupied Areas of Ukraine
(LibertySons.org) – Moscow fully or partially controls Ukraine's Luhansk, Donetsk, Zaporizhzhia, and Kherson regions. Part of the nation's plan to take over the invaded country includes taking a vote, referendum, in those areas to annex them. Russian President Vladimir Putin vowed that if the campaign revealed the people's desire to become part of his country, he would make sure it happened. Ukrainian President Volodymyr Zelenskyy called the measure a "sham."
President Joe Biden also declared the action a "sham" when speaking about the Russia-Ukraine conflict at the United Nations General Assembly on September 21.
The Referendums
Kremlin-led referendums pushing a vote to take over the territories began on September 23 and will end on September 27. Soldiers are going to individual homes to distribute paper ballots, giving Moscow a lot of control over the outcome.
When Russia used this method before in Crimea, the military loomed over individuals, influencing the outcome — to join Russia. This time, Ukrainian officials said workers were threatened with job loss if they didn't vote. The military members are also intimidating because they carry weapons at their stops. There are even reports of children ages 13 to 17 casting ballots.
The issue with the vote is it is illegal under Ukrainian and international law. Regardless, the Kremlin is continuing the process.
The end concern is how Putin could use the results to take control over the areas and illegally make them part of his country. The rumors about such a vote began when it became clear that Russian troops were not making much headway in capturing and keeping key territories in Ukraine. By conducting this fake procedure and declaring it a win, the president could escalate the conflict by claiming any Ukrainian military action against the regions is an attack on Russia itself.
Response to the Vote
Residents living in these areas of Ukraine are quickly trying to flee. The population has dropped by half since the conflict began seven months ago.
Ninel Lysenko, who left Melitopol, said she was in Donetsk in 2014 when the Kremlin pulled a similar stunt. She explained it was all for show and not a real democratic process. The woman did admit there is some support for the annexation by individuals who remember life in the Soviet Union and are nostalgic for it, but they are a minority.
Zelenskyy said the process was a scheme made to "distract the public." The leader vowed to continue his efforts to remove enemy troops from Ukraine.
~Here's to Our Liberty!
Copyright 2022, LibertySons.org