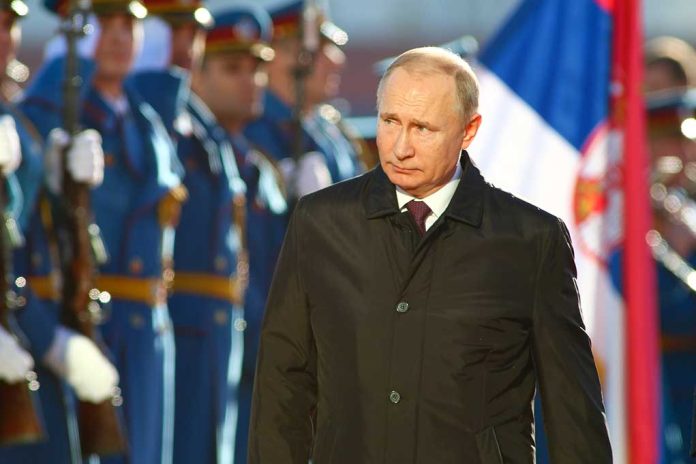 (LibertySons.org) – On March 17, reports surfaced that the Federal Security Service of the Russian Federation (FSB) took General Roman Gavrilov, Deputy Chief of the Russian National Guard and former member of Russian President Vladimir Putin's security service, into custody. Sources within the country reported the news based on telegram exchanges. Rumors also swirled that Putin ordered the detention because the general allegedly leaked information.
Three independent sources report that the deputy chief of Russia's Rosgvardia (a unit of RU's interior army which has had tremendous losses in Ukraine), Gen. Roman Gavrilov has been detained by FSB. Gavrilov had also previously worked in FSO, Putin's security service.

— Christo Grozev (@christogrozev) March 17, 2022
There were no confirmed explanations for the arrest, but some sources say the general's assumed leak led to the death of soldiers. Another source said it was for wasting fuel.
State Duma Deputy Alexander Khinshtein denied the arrest of Gavrilov. He said reports are false and nonsensical. Khinshtein claims he has been in contact with the general himself.
What is known is that the troops headed by Gavrilov have suffered greatly in their moves against Ukraine. There has been a significant loss of life in soldiers under his command. The missions, which Putin planned to go swiftly, have stalled out and made very little headway thanks to strong Ukrainian resistance. Considering there are reports of Putin recently firing an estimated eight Russian commanders out of anger about their performance, arresting Gavrilov does not seem out of character for the Russian leader.
~Here's to Our Liberty!
Copyright 2022, LibertySons.org