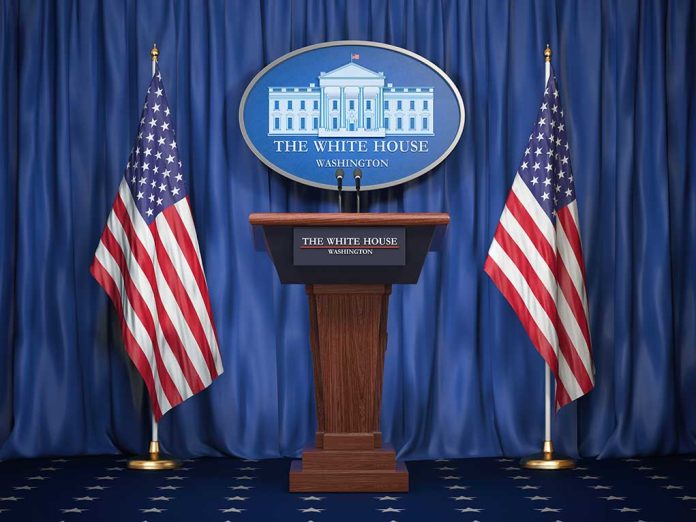 (LibertySons.org) – During the March 14 press briefing, White House Press Secretary Jen Psaki went in circles with a reporter. The journalist questioned what severe consequences could be left to punish Putin when the administration has already done or ruled out the most severe options. Psaki wouldn't provide any further information about potential actions the United States could take.
The questions arose concerning what US officials would do if Russia used chemical weapons. The reporter mentioned the steps already taken and some more serious measures, including troops on the ground and a no-fly zone, that Biden said would not happen. Then the journalist asked what consequences would be left and asked for examples.
Psaki refused to give details. She said conversations are ongoing privately with the national security team and allies.
White House press secretary Jen Psaki reiterated Monday that Russia would face severe "consequences" if the country carries out a chemical attack in Ukraine but stopped short of drawing any red lines for intervention from the United States.

— Washington Examiner (@dcexaminer) March 15, 2022
Refusing to back down, the journalist continued to question the press secretary. She reiterated that Psaki is expecting the public to believe there are severe consequences not already used and not on the list of actions the president said wouldn't happen.
Psaki simply replied, "Correct."
The press secretary explained the potential consequences needed to remain private. But the journalist noted it was hard to believe more extensive measures were left because the administration ruled out the most severe ones.
Psaki replied, "that's inaccurate," and moved on to a different reporter without further explanation. Her tight-lipped responses to a simple question cleared up nothing. Does the White House have something up its sleeve, or is it out of ideas for punishing Putin without entering the conflict and hoping no one will call its bluff?
~Here's to Our Liberty!
Copyright 2022, LibertySons.org