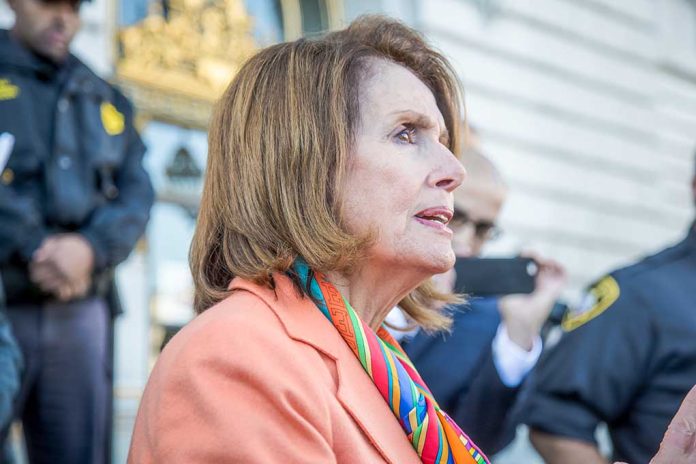 (LibertySons.org) – Nancy Pelosi (D-CA) first became a US representative in 1987. She's used to being treated like royalty on her home turf. Yet, an unwelcome guest left the Speaker of the House visibly shaken during a recent visit to San Francisco.
Pelosi probably didn't expect such a brutal welcome in her own backyard. https://t.co/I1JYlPDJTd

— The Western Journal (@WestJournalism) December 22, 2021
The incident began during a December 20 press conference in which Pelosi, Mayor London Breed, and a number of other leaders shared information about the recently passed infrastructure bill. The House Speaker introduced her colleagues when a man in the crowd yelled the anti-Biden slogan, "Let's go, Brandon!" He then shouted "USA" three times.
WATCH: Protestor interrupts Nancy Pelosi in San Francisco.

"Let's go Brandon! Woooooo!" pic.twitter.com/ihYLN91Lrw

— RNC Research (@RNCResearch) December 20, 2021
Pelosi didn't acknowledge the interloper, but she did pause and stumble over her words after he began to shout. She continued the introduction as if the man didn't exist and quickly stepped away from the podium as California Congressman Mark DeSaulnier came up to speak.
The incident clearly threw Pelosi off despite her attempt to soldier through her speech. Perhaps she found it shocking that someone who favors the "Let's go, Brandon" sentiment even calls the overwhelmingly liberal city home.
The press conference took place just one day after Senator Joe Manchin (D-WV) announced he would vote against the Build Back Better Act. However, Pelosi says she feels confident Congress will be able to vote on the Act in January.
~Here's to Our Liberty!
Copyright 2021, LibertySons.org