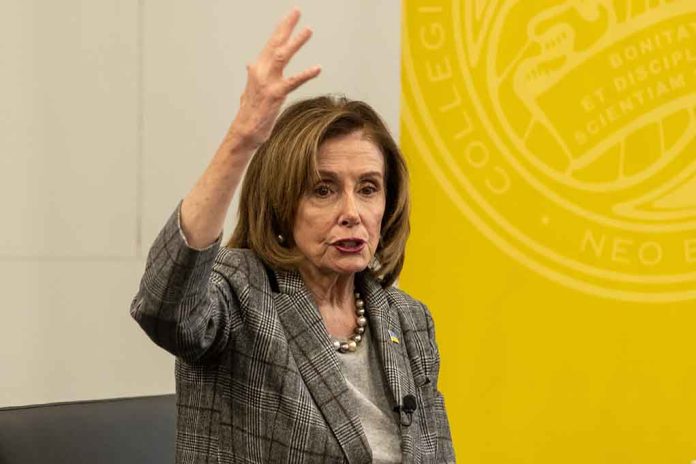 Something Just Happened At Nancy Pelosi's Home
(LibertySons.org) – After the leak from the US Supreme Court of a draft ruling in an abortion case that could end federal Roe v. Wade abortion protections and return decisions to the states, pro-choice groups came out in full force to protest. They began targeting Conservative justices on the court, but they're now expanding their footprint. Left-wing activist group Ruth Sent Us tweeted on May 9 that its members would protest outside the home of Speaker of the House Nancy Pelosi (D-CA).
Live: Abortion Rights Protest at Nancy Pelosi's House in San Francisco https://t.co/LLFC3RLnj7 via @YouTube #SanFranNan, #lyingNancyPelosi, #protesters, #LyingLiberals

— Tom Heeter (@t_heeter) May 11, 2022
Previously, the group had called out Pelosi as "careless" and "cowardly" for not standing up to Republicans, claiming she did nothing to stop the affirmation of Conservative Justice Brett Kavanaugh. They marched in front of her residence, demanding she investigate the Supreme Court and protect abortion rights.
We have had careless and cowardly representation by @SpeakerPelosi. The GOP followed a scorched earth strategy with endless Benghazi hearings and ACA repeals, but she passed endless bills that lay on @LeaderMcConnell's desk and refused to hold hearings on TRUMPIAN crimes. 2/x

— Ruth Sent Us 🪧 (@RuthSentUs) May 10, 2022
The group also labeled Justices Samuel Alito, Amy Coney Barrett, Neil Gorsuch, Brett Kavanaugh, and Clarence Thomas as liars who deceived Congress and the American public. They want the speaker to hold the justices accountable for their words during their confirmation hearings.
Fox News requested a comment from Pelosi's office but received no reply. Ruth Sent Us made news for wearing red cloaks that mimic those worn on the television series "The Handmaid's Tale" at their gatherings and calling people to protest at churches and outside justices' homes.
~Here's to Our Liberty!
Copyright 2022, LibertySons.org