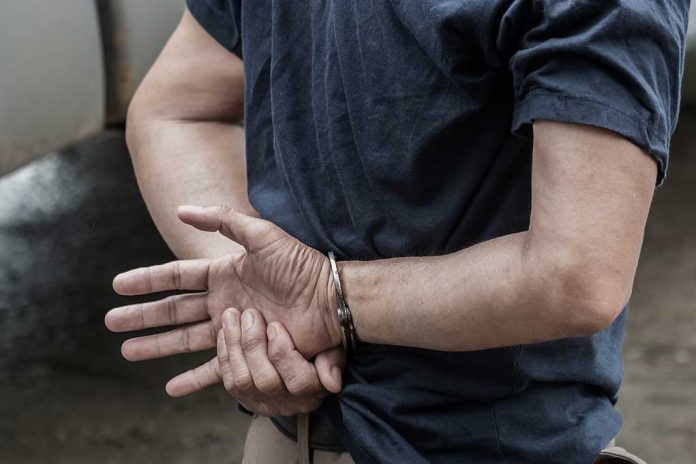 (LibertySons.org) – "It's tough to do your job in America in 2023." That's what Evan Lambert, a correspondent for NewsNation, said to reporters with a smile as police officers escorted him to the back seat of a squad car. Authorities placed Lambert under arrest for criminal trespassing and disorderly conduct after reporting live from an East Palestine gymnasium where the governor of Ohio, Mike DeWine (R), was holding a press conference.
DeWine was preparing to speak to the public about a new safety plan devised after a train recently derailed in the community, forcing residents to evacuate their homes. Before the governor's address, Lambert was reporting live about the derailment and how people would be hearing from the governor soon.
State troopers and Major General John Harris Jr. of the Ohio National Guard approached the correspondent and told him to stop broadcasting, claiming he was too loud. The National Guard general claimed that Lambert responded in an aggressive manner. Shortly after going off-air, police attempted to remove the reporter from the building before eventually throwing him to the ground.
Authorities then led Lambert out of the building and to their squad car, where a reporter asked him if he had anything to say to the public. The correspondent said it was hard to do your job in the US.
Governor DeWine addressed recently talked to reporters about the incident. He said it's "always been" his practice to allow reporters to do their job if they want, even when he's speaking. DeWine added that Lambert had "every right" to be there and do what he was doing. The governor concluded his remarks by telling reporters he didn't direct the police to arrest Lambert.
Law enforcement officials booked and released Lambert shortly after his arrest. It remains unclear when the court scheduled his next appearance.
~Here's to Our Liberty!
Copyright 2023, LibertySons.org