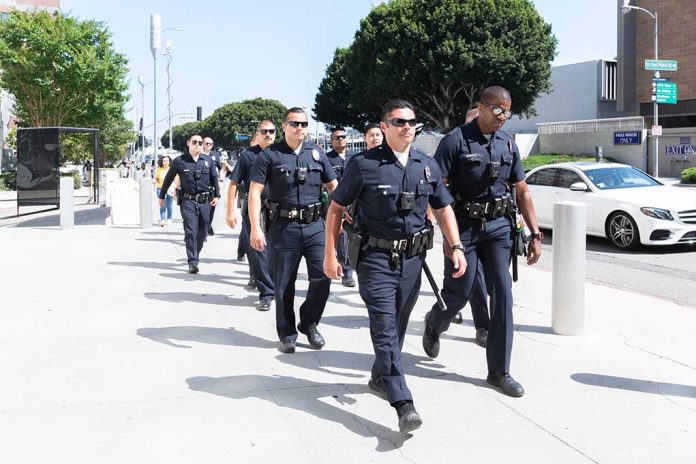 (LibertySons.org) – Nobody wants to stay in a job where they face disrespect. With so many liberal voices degrading law enforcement officers, it is no surprise a recently released report shows policemen and women are leaving the profession at an alarming rate.
Law enforcement agencies across the country are struggling to keep enough officers on the payroll to protect the public and enforce laws adequately. A June 11, 2021, survey from Police Executive Research Forum (PERF) looked at about 200 departments and found drastic changes in the number of resignations and retirements from its 2020 survey covering 2019.
Report: High numbers of police officers quit, retire – https://t.co/WX5C2SDIlM

— Yvette Myers (@mann88) June 28, 2021
PERF discovered an increase of 20% in officers quitting and a 45% increase for those retiring. The survey revealed the nation's policing is in an unprecedented state of decline.
Seattle Police Chief Adrian Diaz said his department currently suffers from the loss of active duties officers. Sixty-six left the department so far this year, compounding last year's loss of 180 officers. Likewise, North Carolina's Asheville Police Department suffered a significant enough staff shortage that officers no longer respond to calls for certain low-level crimes.
Officers leave the job all the time for various reasons like stress, anti-police sentiment, and harassment. However, the current trend of liberal mobs shouting to "defund the police" and advocating the closure of jails and prisons creates a dangerous situation. All this anti-police sentiment leads to nationwide shortages of police officers undermining law enforcement's ability to protect and serve,  ultimately hurting citizens who become victims.
It appears that former President Donald Trump may have been correct to condemn organizations that terrorize citizens and police departments during the last 13+ months of protests and push back on leftist efforts to "defund the police."
~Here's to Our Liberty!
Copyright 2021, LibertySons.org