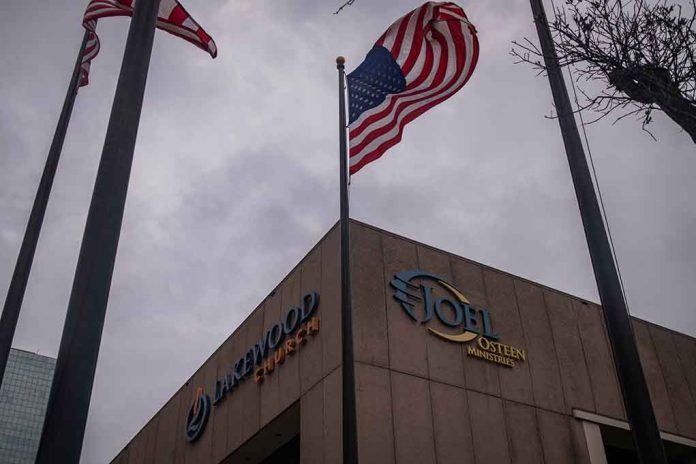 (LibertySons.org) – When a plumber discovered hidden money in a bathroom wall at Joel Osteen's Lakewood Church, it became a sensational story. Everyone was abuzz about the man at the center of the situation who had hundreds of thousands of dollars in his hands but chose to turn it in, saying he deserved some type of compensation. Their wish for a reward just recently came true.
Crime Stoppers announced it would pay the plumber, known only as Justin, $20,000 for finding the church's lost money.
Justin, the plumber who discovered hundreds of thousands of dollars in the bathroom wall of Joel Osteen's church, said he received compensation for his assistance.

He received $20,000 from Crime Stoppers, which received the cash after the discovery.

— Washington Examiner (@dcexaminer) December 8, 2021
Justin uncovered the 500 envelopes stuffed with checks, cash, and money orders in a bathroom wall at the megachurch in Houston on November 10.
He received the reward on December 7.
The church first reported the theft of $600,000 in 2014. Investigators were able to connect the loot Justin found with the missing funds. Lakewood Church gave Crime Stoppers $20,000 to reward anyone helping to catch the responsible party back in 2016. However, investigators failed to uncover any leads in the case; it ultimately went cold.
Justin was initially ineligible for the reward because it had timed out by the time he made the shocking discovery within the church's walls. Crime Stoppers decided to give it to him anyway. The organization recognized his good deed, wishing him and his family well.
~Here's to Our Liberty!
Copyright 2021, LibertySons.org