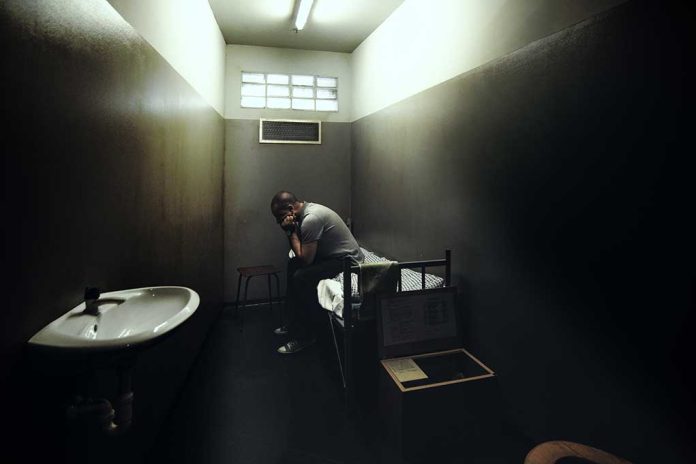 (LibertySons.org) – The January 6, 2021, incident at the Capitol resulted in the FBI arresting over 500 people. While many of them were let go on bail or settled their cases, the dozens still sitting in cells are causing concern.
On July 22, 2021, Greg Kelly exposed the Washington DC prison living conditions for those still incarcerated on his Newsmax program. The images show 7-foot by 10-foot cells where they have spent 23 hours a day for the last six months.
The worst part is none of these people have a conviction for any crime. They are being held before their trials due to bail denials because they are dangerous or flight risks.
Greg Kelly Airs Photos of All of the J6 Detainees Locked Up Without Trial https://t.co/v2j3KonrWB

— Jack Posobiec 🇺🇸 (@JackPosobiec) July 23, 2021
Attorneys have expressed concerns for their clients, saying the confinement has a negative mental health impact. Some have also stated they do not have access to speak with clients confidentially.
This situation is even gaining support from the very people who demanded these people face charges in the first place. Senator Elizabeth Warren (D-MA) and Senate Majority Whip Dick Durbin (D-IL) are both speaking out about the prisoners' rights. Warren said the conditions are cruel and worries this is a calculated situation to punish them.
Officials in DC blame the pandemic for isolating prisoners and for the long wait for trials. However, using COVID as an excuse seems to be a weak argument that doesn't hold up when depriving people of their constitutional rights.
~Here's to Our Liberty!
Copyright 2021, LibertySons.org