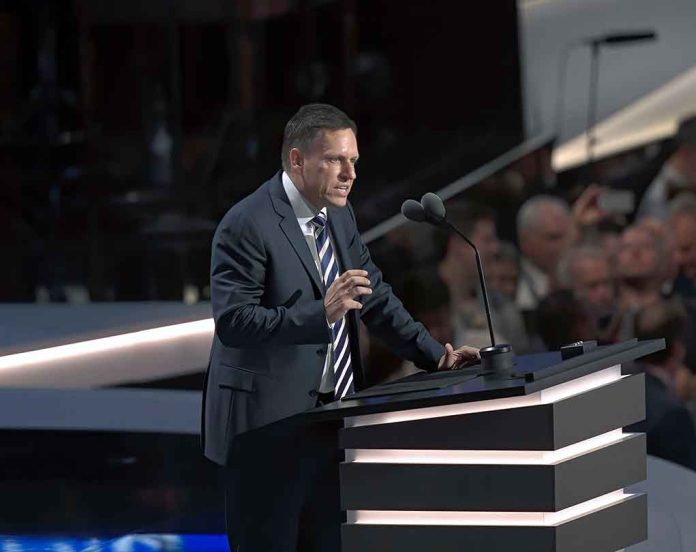 Facebook Star Leaves Suddenly – He's Joining Trump
(LibertySons.org) – On February 7, Meta announced Peter Thiel will retire from its board at a recent shareholders' meeting. He officially ended his reign with Meta on May 25. Thiel is one of the only Conservatives in this industry to rise to such prominence. The Daily Wire reported his parting with Meta is allegedly so he can focus on helping fellow Republicans win the November midterm elections.
About Thiel
Thiel joined the Meta Board of Directors in April 2005. According to Forbes, the 54-year-old is the co-founder of PayPal and Palantir. He's also a general partner of Founders Fund. In addition, the investor has money in Stripe and SpaceX, and he was one the first to substantially invest in Facebook, although he sold most of his holdings prior to stepping down from its board. The Silicon Valley Conservative also provides entrepreneurs money through his Thiel Foundation.
Departure from Meta
In the announcement of Thiel's retirement, founder and CEO Mark Zuckerberg spoke highly of his colleague. He praised Thiel as a "valuable member" who taught the young entrepreneur many business lessons. Zuckerberg also admitted he knew Thiel would one day move on, but he was thankful for his time on the board. The Facebook creator wished him well in his future endeavors.
Thiel said the opportunity to be on the board was a "privilege." He complimented Zuckerberg as "one of the great entrepreneurs of our time."
Future Plans
The New York Times reported Thiel left Meta because he wanted to focus his efforts on getting the right Conservatives in office during the midterms. The source said the PayPal co-founder feels strongly that what happens in November will greatly impact the country moving forward.
Thiel reportedly supports former President Donald Trump and his agenda. He wants to help get Trump-backed candidates to victory.
The Times also reported Thiel increased his donations to the Republican party, giving millions to support candidates JD Vance and Blake Masters — both Trump-endorsed. Vance is running for Senate in Ohio, and Masters is vying for an Arizona Senate seat.
According to the NYT article, Thiel held a lot of sway in pushing for free speech on the platform because of his close relationship with Zuckerberg, said the NYT article. Still, he's recently talked about his disagreement with the censorship on Facebook but didn't cite it as a reason for leaving. Meta loses a strong and vocal conservative perspective with the board member's departure.
Do you think the former board member's potential help for Republican candidates will help during the upcoming election cycle?
~Here's to Our Liberty!
Copyright 2022, LibertySons.org