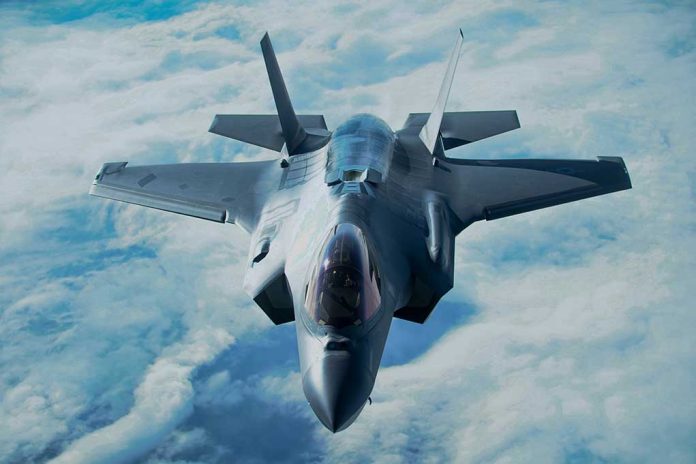 Pentagon HALTS Delivery Due To This Chinese Product…
(LibertySons.org) – After receiving notification about a Chinese-made part in the turbomachine pumps of F-35 jets, the US Department of Defense suspended the delivery of the aircraft to foreign and domestic customers. Concerns about the alloy revolve around the Buy American Act of 1933, leaving questions as to how materials from China ended up in defense-contracted equipment.
The Department of Defense has reportedly suspended the delivery of F-35 fighter jets to U.S. military branches and various international customers, after it was discovered that a metal component for the jet engines derives from China. https://t.co/79fNp2mptY

— Newsmax (@newsmax) September 8, 2022
The Buy American agreement is a commitment by the federal government to purchase US goods whenever possible. It applies to steel, iron, and manufactured products. The law requires at least 50% of materials come from within the United States. Contractors must also meet this standard with any equipment they supply.
In a statement to Politico, the F-35 Joint Program Office said the magnets inside the pumps come from China and might violate the requirement for US material usage. Spokesman Russell Goemaere noted the contractors supplying the aircraft have already taken steps to fix the situation. They added there are no safety or security issues with the part, so the current fleet will remain in operation.
Despite the remedy, the Defense Contract Management Agency is working with Lockheed Martin, which assembles the aircraft, to learn more about how the oversight happened. The part in question comes from Honeywell, which is also involved in the probe. The goal is to ensure this misstep doesn't recur in the future.
~Here's to Our Liberty!
Copyright 2022, LibertySons.org