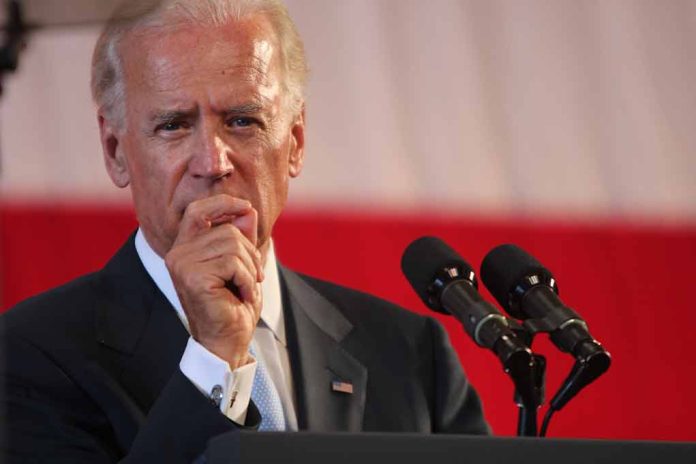 (LibertySons.org) – President Joe Biden marked the second anniversary of the US withdrawal from Afghanistan after two decades of occupation with a statement. He remembered and thanked "generations of brave women and men" who "sacrificed their own safety and security for that of their fellow Americans."
Yet, the Center to Advance Security in America (CASA), an organization using Freedom of Information Act (FOIA) requests and lawsuits to obtain information, recently uncovered incriminating emails. They indicate Pentagon officials working on the Biden administration-mandated Defense Department 2021 Climate Adaptation Program (DoDCAP) may have split military commanders' focus during a critical withdrawal phase.
What Is CASA?
Philadelphia attorney James Fitzpatrick, a lawyer for the ultra-conservative Zimolong Law firm, an army veteran, and an Army Reserve officer serving in the Judge Advocate General (JAG) Corps, run CASA. The organization helps educate Americans about their government's actions and how US officials impact Americans' safety, privacy, civil rights, civil liberties, democracy, peace, and security.
Fitzpatrick uses his legal experience to obtain information through FOIA requests and suits. On August 31, CASA released an article claiming that emails obtained through one of those FOIA requests showed the Department of Defense (DoD) officials fast-tracked the DoDCAP simultaneous to the Afghanistan withdrawal, forcing Defense Secretary Lloyd Austin and other high-ranking defense officials to split their focus at a critical and chaotic juncture.
What Did CASA Find?
In May 2021, Richard Kidd IV, the deputy assistant Secretary of Defense for Environment and Energy Resilience, emailed Andrew Maycock, the president's federal Chief Sustainability Officer, advising him of the timeline for the program report and the potential difficulty in obtaining Austin's signature because of the crises he faced. During the same period, a DoD Inspector General report indicated the Taliban had increased attacks on Afghan government forces and were massing to attack population centers.
CASA also provided an August 2021 email chain between Kidd and Joe Bryan, the senior advisor to the secretary on climate, indicating that the newly sworn-in Secretary of the Navy, Carlos Del Toro, hadn't had the opportunity to review the DoDCAP. The CASA piece questioned military leaders' priorities in light of the seeming chaos surrounding the comparatively low-level report versus life-threatening actions in Afghanistan.
Moreover, Austin signed the climate report just six days after the tragic Abbey Gate attack, killing 13 US service members and wounding dozens more. The CASA author called the thought of military leaders splitting their attention at such a time "appalling" and reminded readers that the new information deeply affected Gold Star families.
~Here's to Our Liberty!
Copyright 2023, LibertySons.org