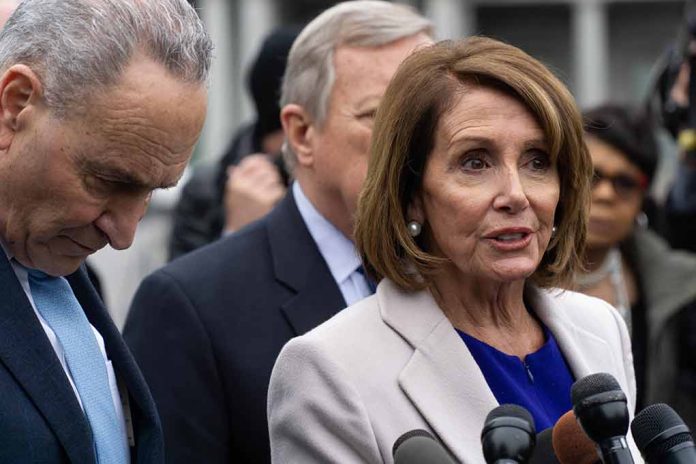 (LibertySons.org) – Former House Speaker Nancy Pelosi (D-CA) sat down with the hosts of MSNBC's Morning Joe on July 19, to discuss several wide-ranging subjects. Toward the end of the interview, host Mika Brzezinski asked Pelosi her opinion about criticisms that President Joe Biden is becoming too old to run for a second term. Pelosi, 83, told her host she saw Biden, 80, as a youthful presence.
The former Speaker encouraged the president to embrace his experience and knowledge gained with age and years of public service. She pointed out that the opposition leader, referring to former President Donald Trump, 77, wasn't much younger.
Adding to her arguments, Pelosi said, "Age is a relative thing." She characterized many of the legislative achievements made during the first two years of Biden's administration as "record-breaking," emphasizing how much the president and Democrats advanced measures benefitting Americans, partly because of Biden's level of legislative experience and his knowledge about government.
As an aside, Pelosi mentioned conversing with producer Norman Lear, who is still working at over 100 years old to produce movies, and with architect Frank Gehry, 94, who still designs buildings internationally. She mentioned to them the criticism Biden receives for wanting to continue his work at 80, and they scoffed, calling him "a kid." They saw no reason why he shouldn't continue his life's work.
Pelosi quipped, "He's younger than I am, so he's a kid to me, as well!"
The former Speaker said she believed people were using age as an excuse and a reason to exclude Biden from running. But she thinks America needs to move forward with this election for the good of the people.
While Pelosi spoke passionately about her beliefs, most Americans disagreed before Biden declared his candidacy. Even as late as May, 58% of Democratic-leaning voters in a Washinton Post/ABC poll would have preferred a nominee other than Biden.
A February Yahoo poll found 45% of respondents felt Trump was too old to run vs. 65% who felt the same about Biden. Yet, in the current Real Clear Politics average of polls for the Democratic presidential nominee and the Republican presidential nominee, the two men lead their opponents by more than 50 and 30 points, respectively.
~Here's to Our Liberty!
Copyright 2023, LibertySons.org