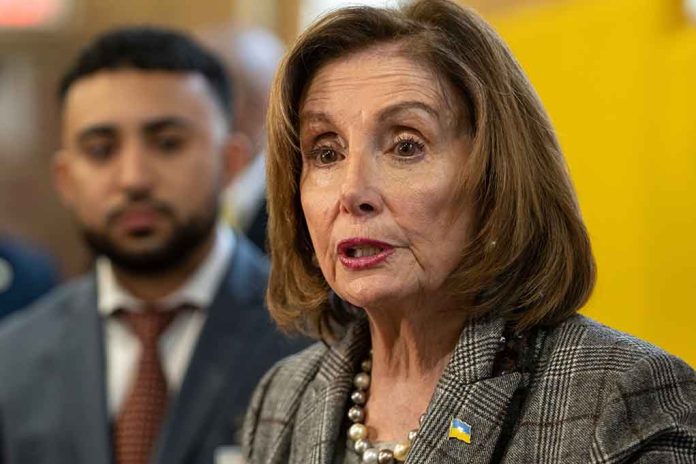 (LibertySons.org) – The American judicial system does its best to ensure everyone is treated fairly in the court of law. One of the pillars of doing so lies in the system's rule that everyone is innocent until proven guilty. However, former Speaker of the House Nancy Pelosi (D-CA) apparently forgot how America's judiciary works and made a bizarre comment in connection with former President Donald Trump's recent indictment.
The Grand Jury has acted upon the facts and the law.

No one is above the law, and everyone has the right to a trial to prove innocence.

Hopefully, the former President will peacefully respect the system, which grants him that right.

— Nancy Pelosi (@SpeakerPelosi) March 31, 2023
Representative Pelosi took to Twitter and declared "no one is above the law," before writing that "everyone has the right to a trial to prove innocence." The California Democrat's tweet quickly caught the attention of Republicans in the House Judiciary Committee. The group retweeted Pelosi's original post and explained that wasn't how American jurisprudence works. The GOP group explained one would expect a former House Speaker to know that everyone is innocent until proven guilty in a court of law.
NOT HOW IT WORKS. You don't "prove innocence" in America.

You're innocent until proven guilty.

You'd think the FORMER Speaker would know that. https://t.co/vUILnwaeD4

— House Judiciary GOP (@JudiciaryGOP) March 31, 2023
Twitter's Community Notes added a link to Cornell Law School, fact-checking Pelosi's tweet, noting that she mistakenly said people have the right to prove their innocence. The institution explained prosecutors must "prove beyond a reasonable doubt" that the defendant is guilty of committing a crime.
In the former president's case, Manhattan District Attorney Alvin Bragg reportedly indicted him over payments he allegedly made to Stephanie Clifford, also known as Stormy Daniels in the adult film industry. Trump's former lawyer, Michael Cohen, supposedly paid Clifford $130,000 to keep her quiet about an affair she and the former president had. However, Trump has denied the allegations and continues to maintain his innocence.
Several Republicans have declared their support for Trump since the Manhattan DA indicted him. For example, Representative Jim Jordan (R-OH) called the indictment "outrageous" on Twitter. Meanwhile, Republican Senators Ted Cruz (R-TX) and Rick Scott (R-FL) criticized the indictment and joined House Speaker Kevin McCarthy (R-CA) in calling Bragg out for weaponizing the justice system.
~Here's to Our Liberty!
Copyright 2023, LibertySons.org