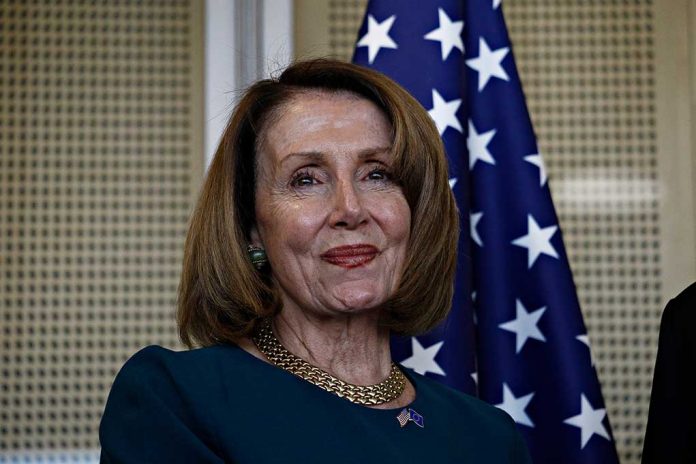 (LibertySons.org) – The fall of Afghanistan to the Taliban is a mounting global crisis that has put the US and its allies in a terrible position. Therefore, it is no surprise President Joe Biden is facing harsh criticism from the media, former Obama staffers, and world leaders. What is shocking is the reaction of House Speaker Nancy Pelosi (D-CA).
On August 17, Pelosi continued her constant praise for the president's withdrawal of troops from the Middle Eastern nation during an interview with local San Francisco affiliate KPIX. She not only praised Biden's performance, but she also called his leadership "strong and "decisive."
COMEDY: Nancy Pelosi Praises Biden For 'Strong And Decisive' Exit From Afghanistan (VIDEO) https://t.co/OmKKQas7FI via #gatewaypundit

— Brian Hamel (@hamel1776) August 19, 2021
Pelosi also brushed off questions about US military equipment left behind and now controlled by the Taliban. The Speaker added the US official had hoped that Afghan forces would use the gear to push back against the Taliban. However, since that didn't happen, she said it was wise for Biden to follow through with troop withdrawal. Throughout the interview, Pelosi appeared cheerful and optimistic despite the heartache and loss of life happening in Afghanistan.
Biden appears to be digging his heels in on the situation as well. On August 18, he told ABC News host George Stephanopoulos he didn't consider the mounting chaos in Afghanistan a sign of failure. However, that stance appears confusing since he recently said there was no way the Taliban would quickly assume power in the wake of the withdrawal of US forces. Clearly, that prediction didn't pan out as expected.
Pelosi might want to take a deeper look at continuing her support for an obviously failed effort. Is she unable to grasp what's happening or unwilling to accept the reality of Biden's horrendous failure?
~Here's to Our Liberty!
Copyright 2021, LibertySons.org