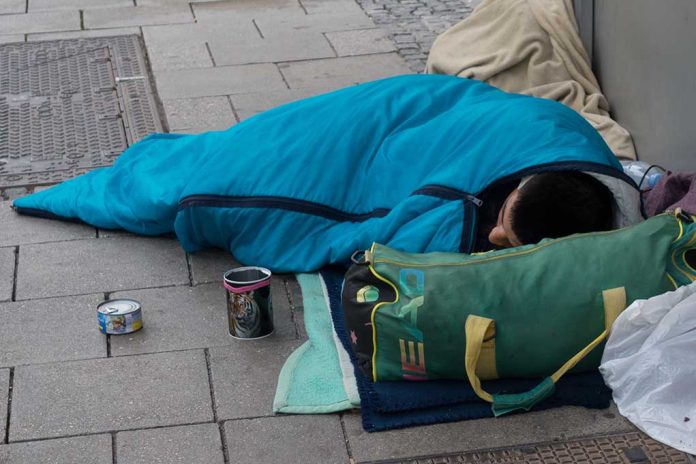 (LibertySons.org) – Homelessness in America affected more than 580,000 individuals in 2022. Nearly a third of them, over 171,500, lived in California and 3,933 in picturesque Sonoma County with its vineyards, orchards, bike and hike trails, and gentle climate. Currently, in a parking lot outside the courthouse in Santa Rosa, the Sonoma County seat, dozens of people are living in blue tents erected as a homeless shelter encampment by the county.
Sonoma County Moves Encampment
The Sonoma County Board of Supervisors approved the installation of the emergency shelter site (ESS) at the Santa Rosa administrative campus in March in hopes of relieving a growing homelessness problem along the Joe Rodota Trail, an abandoned railroad line which the lawmakers paved and repurposed as a biking and walking trail, according to Fox News. Homeless encampments have repeatedly cropped up along the path over the last four years, forcing law enforcement agents to clear tents and remove people living there or close the trail to maintain public safety.
A woman-owned company called DEMA Consulting and Management oversees the management of the non-congregated site. They provide tent shelters, meals, medical services, and 24-hour security to the vulnerable homeless population of the county-approved ESS at the administrative campus. The administrators also offer mental health care and job-training resources to their inhabitants. DEMA and the county prohibit drugs and alcohol at the site and ban anyone convicted of sexual or violent offenses from living there.
Owners Michelle Patino, an RN with critical and acute care experience, and Mica Pangborn, an accountant, began providing disaster response services to Sonoma County during devastating wildfires. They expanded to include non-congregated site services during the two-year national pandemic health crisis, providing a viable sheltering solution for a growing homeless population facing the area.
Paying to Feed and Shelter the Homeless
In addition to the Courthouse, the county administrative campus contains the Human Resources office, the registrar, the district attorney's office, and a California Superior Court. This year, taxpayers are helping to fund the ESS after the County Supervisors declared a "shelter crisis," with too few shelter beds available to accommodate the growing homeless population.
Residual funds from the American Rescue Plan provided $3 million in March to establish the ESS initially and keep it going for approximately six months, according to the Press Democrat. In mid-June, California Governor Gavin Newsom (D) awarded Sonoma County and Santa Rosa $4.6 million in grants over two years through the state's Encampment Resolutions Funds. Santa Rosa plans to help up to 225 people in 14 different encampments with the funds.
~Here's to Our Liberty!
Copyright 2023, LibertySons.org