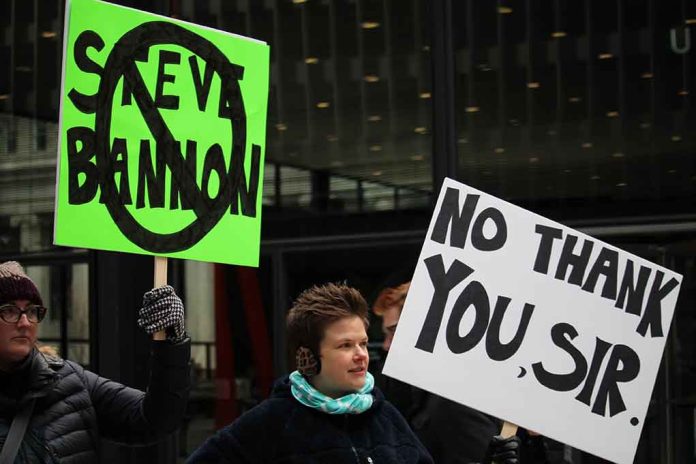 Steve Bannon TARGETED – Nasty Takedown Scheme Launched
(LibertySons.org) – The January 6 committee in the House of Representatives subpoenaed Steve Bannon for testimony in 2021. But the former Trump strategist refused to answer on the grounds that he claimed to be under the former president's authority at the time. On April 15, he evoked a public authority defense, which the US Department of Justice (DOJ) says is invalid.
'The Former President Was Not a Government Official': Feds Want to Bar Steve Bannon from Invoking Trump in Public Authority Defensehttps://t.co/Ja5GNf52C9

— Law & Crime (@lawcrimenews) April 29, 2022
According to Law & Crime, the DOJ filed a complaint on April 29 against Bannon, asserting Donald Trump was not the president or a government official when Bannon failed to answer the subpoenas. As a result, he cannot claim the public authority defense. The DOJ indicted Bannon for contempt in November 2021 for not responding to the committee's legal call.
The former Trump strategist also claimed entrapment-by-estoppel as a defense, which Law & Crime defines as the criminal prosecution of a person who has relied on information from a government official responsible for enforcing and interpreting the law. The DOJ denied this defense as well because it said his actions were never government-sanctioned.
The DOJ maintains Bannon acted independently and not under any government authority. Officials stated his defenses are not valid and that he is in contempt of Congress, which is a misdemeanor. He faces two charges that carry up to a year in jail each and a potential maximum fine of $100,000.
~Here's to Our Liberty!
Copyright 2022, LibertySons.org